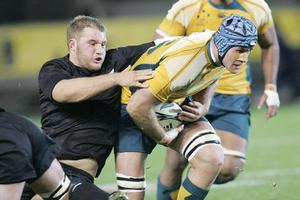 If rugby is a drug, then Owen Franks cannot wait for his next fix. The prop playing his first Bledisloe Cup match and just his second test was buzzing after making a massive contribution from the bench in last night's gutsy 22-16 win.
"It was awesome," Franks said, using a superlative he would repeat. "It was a pretty wicked high after the game. When you get that feeling it's like, 'Geez, the only thing that could get you that sort of high is probably taking drugs'. And you can't do that ... Everyone's really happy. After the start, everybody dug deep. I thought it was awesome. It was fun to be a part of."
Franks managed to channel his nervous energy into sustained aggression once he came on in the 45th minute, crossing the line once when he was third man into a melee.
"I was feeling the nerves big time sitting on the bench but once I got out there I just loved it," Franks said. "I just got stuck in and it was awesome."
The All Black scrum had the better of their opponents, though Franks conceded that the Wallabies, with their "unorthodox set-up" and habit of going in "a bit early" were difficult to scrum against.
But it was the breakdown and the clean-out that lay the foundation for the All Blacks to first claw their way back into the match and then dominate. Even if the official match stats did not reflect it - the All Blacks five ruck and maul turnovers to the Wallabies six - it was at the breakdown where the home side made their intentions clear.
It was a point noted by assistant coach Steve Hansen.
"It was very good. Both sides were very, very good at the breakdown. When you've got George Smith and Richie McCaw, you're going to get a few turnovers, but there were a lot of other guys who worked hard in there," Hansen said.
"A guy like Jerome Kaino, I thought he had a great game tonight. He really stood up and helped his two mates because they hadn't played much. Kieran Read came on and did some good stuff and our two midfield backs did well in the breakdown as well."
What made the win remarkable was the fact five players were coming off little rugby.
"In the back of your mind you are [worried about rust] but you can't do anything about it. They've got to start playing at some stage but there's a big difference between tests and club rugby.
"The whole 22 really stood up to be counted."
One area of concern was the lineout, where the Australians put enormous pressure on the All Blacks and inexperienced 'caller' Isaac Ross.
"We allowed ourselves to be pressured at lineout time. We went to the back twice and didn't collect those, so we started going to the front all the time and Australia put heaps of pressure on.
"It was a learning curve for Isaac; how to mix it up when you're under pressure to take the pressure off yourselves."
The learning curve begins tomorrow morning with a crack-of-dawn flight to South Africa. At least one player is looking forward to it.
"I'm new to the team so I can't wait to get on the plane and watch a few movies and that," Franks said, counting down the sleeps before his next rugby-induced high.