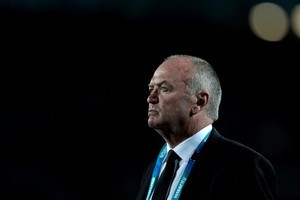 It's a weird one, this Rugby World Cup final. It almost doesn't matter if the All Blacks beat France tonight or not - many of us are still surfing on the residual swell of that iconic victory over Australia.
Of course it matters if the All Blacks don't win the Cup. It's just that the semifinal felt more of a final than the final does and it did the old ticker a power of good to see the All Blacks play that way - balls-out, tactically clever, committed; proper test match rugby, and it warmed an old rugby soul with its intensity and directness. I cannot remember enjoying a drop goal more than Aaron Cruden's.
Smart play. That entire All Black display (apart from 15-20 minutes in the first half when they strayed from their directness in favour of rushing the ball to wide-ranging props; who promptly dropped it) was smart; intellectually smart and street-smart smart.
That match was Graham Henry's deliverance from that awful day at Cardiff four years ago when the All Blacks' strategy of rotation, rehab and reconditioning was exposed as an over-thought, overwrought solution to a problem that didn't really exist.
It called to mind that wonderful passage in The Hitchhiker's Guide to the Galaxy where the super-computer called Deep Thought tells Arthur Dent that the answer to the Ultimate Question of Life, the Universe, and Everything was ... 42. When Dent protested, Deep Thought explained that the answer was incomprehensible because the beings that had invented the computer didn't know what they were asking.
Rubbish in, rubbish out, in other words. Which was pretty much what happened in 2007. I was one of those who howled for Henry's head at the time and who now has to admit that the NZRU, Steve Tew and all, made the right decision.
They have been pretty much faultless most of the way through the four-year cycle and the culmination of those eight years came in that match against the Wallabies. Never mind the dashing and prancing and the scoring of tries; this was entirely more riveting - a game of chess where the grand master was thinking 12 moves ahead.
Strategy is a powerful thing and the sight of that All Black front five ripping into their work and turning that strategy into its most simple form was to drill deep into the core of the All Black psyche. Didn't you love it when Brad Thorn, Jerome Kaino and others got so into their work they patted Wallabies penalised as they tried to stem the All Black flood?
All Blacks never do that. They come from a long line of steely-eyed individuals for whom emotion is kept in a cupboard along with the vaccuum cleaner and the red Kiwi shoe polish for the wife's church shoes. It messed with the Wallabies' heads; a highly effective way of scrambling the brains of a confident race and draining that same confidence.
The man I would have given Henry's job to, Robbie Deans, probably felt his coaching career dip after that same match. We'll never know how Deans would have performed in charge of this All Black team. You have to question, after this tournament, if he would even have selected the same side. He made some curious selections, like making James Horwill captain instead of Rocky Elsom - a decision most thought meant Elsom would be dropped in favour of Scott Higginbotham.
But Elsom stayed - and was exposed more than once before that brutal, clinical demolition job last Sunday. Israel Dagg's ramrod fend spelled the end of Elsom's international career and we can but wonder why Deans hadn't seen the use-by date as well.
Why too did he not play the psychologically brittle Quade Cooper at fullback and leave Adam Ashley-Cooper to shore up the Wallabies' suspect and creatively barren midfield? Why not play the smooth Berrick Barnes at 10 if the order of the day was aerial bombardment? Barnes is a better kicker and Cooper, with his lightning running and eel-like breaks, could have been almost as constructive/destructive as Kurtley Beale. When the kicking strategy failed, why persist?
The upshot of his four-year cycle was that the Wallabies, even with creative players, seemed bereft of ideas and guidance; just like their scrum. It has improved, but Robbie Deans' team has what they had four years ago - a suspect scrummage.
So it was game, set and match to Henry in the battle of the coaches. The Australians' next moves will be interesting, and with ammo like this, national interest may re-assert itself when it comes to the identity of the Australian coach. Deans is contracted until about 2013 - which is a good time to come home if the next All Black coach is making a hash of things. However, that 2011 semifinal could haunt Deans' All Black hopes as well.
Talking about haunting, the ghost of the IRB hangs over Wales coach Warren Gatland who, in a moment of stark honesty, said he had considered cheating by faking an injury to a prop so he could have de-powered scrums; evening up a game after his skipper had been sent off.
Gatland rejected the notion in the end - but is still being investigated by an IRB which apparently believes that the term PR stands for "Pompous Rulers". Leave him alone, guys, rugby is more than rules and Mammon (the great God money). It's about people, honesty and community which is what this World Cup should have shown you above all else.
The only thing that made me cringe more was Ali Williams' and Sonny Bill Williams' tortuously unfunny double act. I have no beef with the All Blacks taking the mickey out of the media. We can be a thorn in their side.
But there we were, the All Blacks' ability being applauded round the world; people other than Kiwis thinking they are a bit special - when up pops two giggling schoolboys who immediately fixed the thought in the minds of the overseas media: "Look, they really are arrogant plonkers..."
Hey Ali, I've got it. Forget the Spiderman suit and the whispering with 'Funny' Bill - try this one. The next time you don't want to talk to the media, take out both pockets so the white lining is hanging out.
Then take out your tadger, walk into the room and say: "Look everyone, it's a white-eared elephant.". It'll go down gangbusters.
Promise.