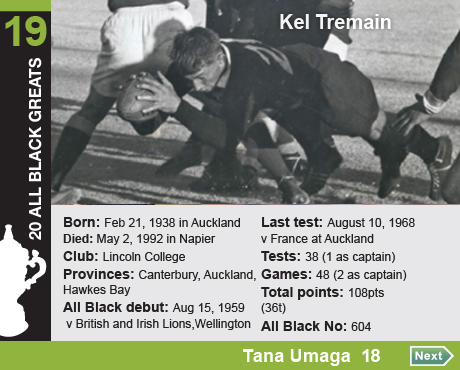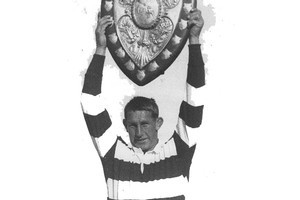 Before Ian Kirkpatrick, Zinzan Brooke and Richie McCaw, there was Kel Tremain.
Back in the days when forwards jumped, mauled, rucked, rumbled about and left the backs to do most of the tryscoring, Tremain was something of a revelation.
He scored tries and even if his tally of nine from 38 tests seems small, it did not at the time. It was a record in tests for a forward. He can now be seen as a player ahead of his time.
Tremain made his first-class debut for Southland in 1957, spent time at Manawatu, Canterbury and Auckland before settling in Hawkes Bay.
Pick your top 20 greatest All Blacks of all time.
It was for that province where Tremain gained most of his fame. He was a Ranfurly Shield-winning captain when the log was in the Bay from 1966-69, and an inspiring man of the province for whom he played from 1962-70.
Big, mobile and with a keen eye for an opportunity near the line, Tremain totted up a remarkable 136 tries from 268 first-class games, a record for a forward until Brooke went past it in the 1990s.
How prolific was he? He played one less first-class match than the great wing Bryan Williams, and scored one less try.
Tremain was a lock in his early years but was switched to flanker by former All Black captain - then Canterbury coach - Bob Stuart, in the year he made his test debut against the Lions, in the second test of 1959.
He was virtually an automatic choice from then on, apart from a test in 1962 when both he and his great chum, Colin Meads, were dropped. Lack of form, the selectors said.
Tremain played in all four tests in South Africa in 1960, all five in Britain, Ireland and France in 1963-64 before those halcyon years, 1965 through 1967 when Tremain was integral to perhaps the finest All Black pack of all. Against the Boks in 1965, he scored tries in each of the first three tests, and one for Hawkes Bay when they faced the tourists.
But his most famous touchdown had come four years earlier in the famous gale at Athletic Park against France.
The All Blacks won 5-3, Tremain scoring their only try near the corner.
The All Black pack in the 4-0 demolition of the 1966 Lions is a candidate for New Zealand's finest - Ken Gray, Bruce McLeod, Jack Hazlett, Colin and Stan Meads, Tremain, Waka Nathan and Brian Lochore.
By this time Lochore had replaced Wilson Whineray as captain. Tremain was a contender, as were Meads and Gray.
He did get his chance, once, when Lochore missed the first test against France at Christchurch in 1968. It was Tremain's final series.
Ian Kirkpatrick was already shoving at the door, Tremain was 30 and that was that.
"I revered him, he was brilliant," Nathan, who had Tremain alongside him in 12 of his 14 tests, recalled. "He wasn't selfish. He played for the team, then he had his own brilliance. I'd rate him with Michael Jones and 'Kirky' as my top three guys. Kel was a champion."
Tremain became a New Zealand Rugby Union councillor in 1990. He died after a short illness two years later.
His presence round the boardroom table was impressive. He was touted as a future chairman of the NZRU. His name lives on in the form of the Kelvin Tremain Memorial Trophy, awarded to the New Zealand player of the year.
At 1.88m and 100kg, Tremain was in some ways the trendsetter for tight-loose flankers.
"He was an effective lineout player, a man gifted with sharpness of reflex and a natural anticipation," Meads once wrote.
"Within 10 yards of the opposition line with the ball in hand he was the hardest man in world rugby to contain."
Pick your top 20 greatest All Blacks of all time.
Next Monday nzherald.co.nz will compare our experts' list with the public's.