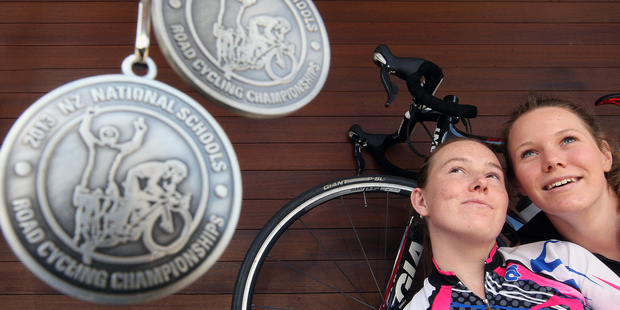 A dangerous road crash for a schoolgirl cycling team last month gave a couple of its Rotorua riders more determination to succeed at the national secondary championships, writes Alison King.
They finished with a silver medal but two Rotorua cyclists had a golden race, bouncing back from a crash that threatened to curtail their season.
Brigitte Allan, 15, and Maggie Allan, 17, made up two-fifths of the Waikato Diocesan School for Girls senior A cycling team that competed in the National Secondary School Road Cycling Championships this past weekend.
On September 10 the team were cycling near Taupiri when they were hit by a van. Maggie was the first to be struck and ended up under the vehicle. Brigitte had dropped back from the group and witnessed it.
"I'd dropped off because the speed was a bit much, so I saw it," Brigitte said. "It was scary and I had to step away.
"I was pretty nervous on race morning, I had no motivation before the race to train because the other girls were out resting.
While we were racing I felt quite emotional."
The girls were in the road race and criterium events as well as the team time-trial. This is an event where the team of five set off together to cover 16km as fast as they can. They take turns at the front to pull the others along in their draft.
Maggie said it was a windy day with average speeds of 22km/h into the wind when they would normally average 40km/h.
"But with the tailwind we went 50km/h," she said.
"We had been aiming to win, our school has never won gold. But we were really excited to get silver. We were pretty proud and our coach had tears in his eyes. We were all pretty emotional.
"Although everyone said there were no expectations of us, we had high expectations of ourselves, whether we had crashed or not."
Brigitte will have an enforced break from cycling - she flew to the US yesterday for a two-month exchange.
Maggie will race at the Criterium National Championships in Takapuna and the elite 100km OPI Women's Road Race in Taupo next month.