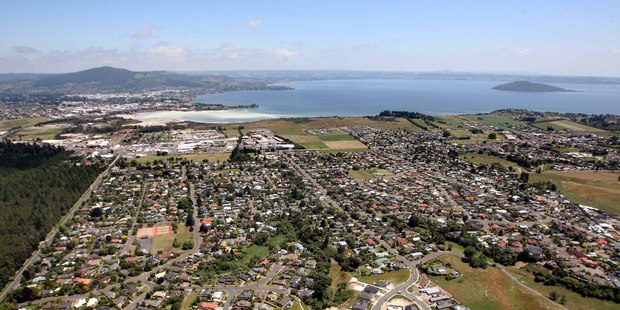 Rotorua house prices jumped by nearly $45,000 in the last year, new figures reveal.
Real Estate Institute of New Zealand (REINZ) figures show the median house price in Rotorua rose $44,000 in the year to December to $254,750 - a 21 per cent hike - but down 2 per cent from November to December.
December house sales also edged higher, from 61 to 68 year-on-year.
McDowell Professionals managing director Ian McDowell said the increase reflected an unusually low median sales price in December 2012.
"The last quarter hasn't been all that good.
By The Numbers
Rotorua Dec 12 $210,000 Nov 13 $260,00 Dec 13 $254,750 Sales in Dec 68
National Dec 12 $370,000 Nov 13 $425,000 Dec 13 $427,000 Sales in Dec 5688
Source: REINZ
"It's a reflection of first-home buyers being out of the market. If the first-home buyers aren't buying, then there's a flow-on effect."
The drop in Rotorua's house price from November to December could be attributed to a "good number" of property sales at the cheaper end, which dragged the median down, he said.
However, things were expected to improve.
"There seems to be quite a bit more confidence in Rotorua, we've got a new mayor [Steve Chadwick] and she's doing a lot of good things. It's going to take a little while to flow through but we're mildly confident that it's going to pick up."
The national median house price hit an all-time high in December of $427,000 - a $2000 increase on the previous month.
Record highs were also recorded in the Waikato, Bay of Plenty, Manawatu/Wanganui, Taranaki, Nelson/Marlborough and Canterbury/Westland.
However, the number of houses sold in New Zealand fell last month. House sales were down 18.3 per cent from November, and 1.1 per cent compared to December last year.
The number of sales below $400,000 dipped 14.4 per cent, which could reflect the Reserve Bank's home loan restrictions, which took effect from October, REINZ said.
"Five regions posted new record high median prices, with some regions, such as Manawatu/Wanganui, Taranaki and Northland seeing sharp increases that are unexpected given the general trend in prices in these regions," said REINZ chief executive Helen O'Sullivan.
Meanwhile, banks are trying to lure customers with special deals ahead of an expected hike in interest rates.
Kiwibank has launched the latest shot in this season's "mortgage wars", promising $2014 to customers who transfer their home loan and everyday banking.
This comes ahead of expected interest rate hikes - predicted for March.