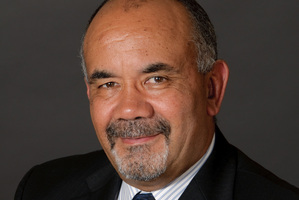 Waiariki MP Te Ururoa Flavell is accusing the Labour Party of jeopardising the selection process for the next Maori Television chief executive.
Former TVNZ general manager of Maori and Pacific Programmes, Paora Maxwell and Maori development consultant, Richard Jefferies are believed to be the final contenders for the top position. Mr Maxwell is of Te Arawa and Ngati Rangiwewehi descent while Mr Jefferies is based in Opotiki.
In Parliament last week, Labour MP Clare Currran claimed that the chairwoman of the Maori Television Service, Georgina Te Heu Heu, intervened to have Mr Maxwell shortlisted for the job.
She had raised the issue with the Finance Minister, Bill English during Question Time.
Ms Curran also said Mr Maxwell's production company, Te Aratai Productions was in substantial debt to programme funder Te Mangai Paho.
But Maori Party leader, Mr Flavell, said the questioning was "wrong," had interfered with the process and had unfairly disadvantaged the applicant.
"It is extremely unjust that there are no protections for every-day New Zealanders when statements relating to their background are being discussed in the House protected by the powers of parliamentary privilege - information which may be subject to confidentiality or could even be incorrect," Mr Flavell said.
"The statements that Clare Curran has now put into the public arena may well influence the appointment for this key position and jeopardise future employment for that particular applicant - and she is able to do that without consequences for herself. She needs to be held to account.
"This has also raised issues for the Board of Maori Television. Not only has the Labour Party clearly disadvantaged the candidate but so has the media who has chosen to debate the issue prior to the finalisation of the process."
Mr Flavell said in the interest of a fair process, Ms Curran should apologise for these statements and allow the Board of Maori Television to go about their business of selecting a new chief executive without undue and inappropriate political influence.