I'd have this churning in the pit of my stomach that I couldn't get rid of.
What if I tripped on the steps leading up to the stage, what if I opened my mouth to sing and my voice shakes uncontrollably?
Will they all laugh?
I take another big deep breath and try to go to sleep.
I'm a teenage girl and it's the days leading up to the Timaru Girls' High School Singing Cup. It was a nervousness like I'd never felt before and hadn't felt since.
I should have been used to it. As a kid, entering singing competitions and performing at concerts was just what I did.
It would be about once a month when Mum and I would pack up, jump in the car and head to a competition somewhere around New Zealand.
I loved it for the social interaction with other kids, the confidence building and, of course, prizes.
Despite being competition regulars, my mother had an uncanny knack of never pushing me or being "that stage mum". Perhaps that's why I wasn't burnt out and loved every minute of it.
But school competitions? They were a whole different ball game.

Singing in front of your schoolmates is petrifying.
So last week as a sat alongside the talented and inspiring Turanga Merito and Mercia Dawn-Yates on the judging panel for Rotorua Intermediate's Got Talent, the memories of five years of high school singing cups came thundering back - so much so, I could feel my heart pounding again.
For some of these kids, performing wasn't all that natural. There were some who were taking big breaths before they started and others who stood sideways so as to not have to fully look at their classmates.
But there were others who were born for it - running on to the stage, grabbing the microphone and even doing warm-up jokes or crowd participation exercises.
The kapa haka performing kids stood out a mile with their natural ease, stage presence and big voices.
There were frequent tears from this soppy judge at the brilliant, and even tears for the not so brilliant. How I hoped that their muffed words or cracked voices wouldn't destroy their wee souls and put them off continuing to learn and practice.
Hunter Geary stood out as the clear winner with his ability to sing Rod Stewart's I Don't Wanna Talk About It so beautifully but also play guitar so competently.
Rock master John Dublin was a clear second place with his crowd pleasing classic rock cover of Basket Case. He had the power chords sussed, the rock stance nailed and wasn't let down by his vocal performance.
Mathew Wallbridge's saxophone solo wasn't lost on us judges who know playing such an instrument isn't easy.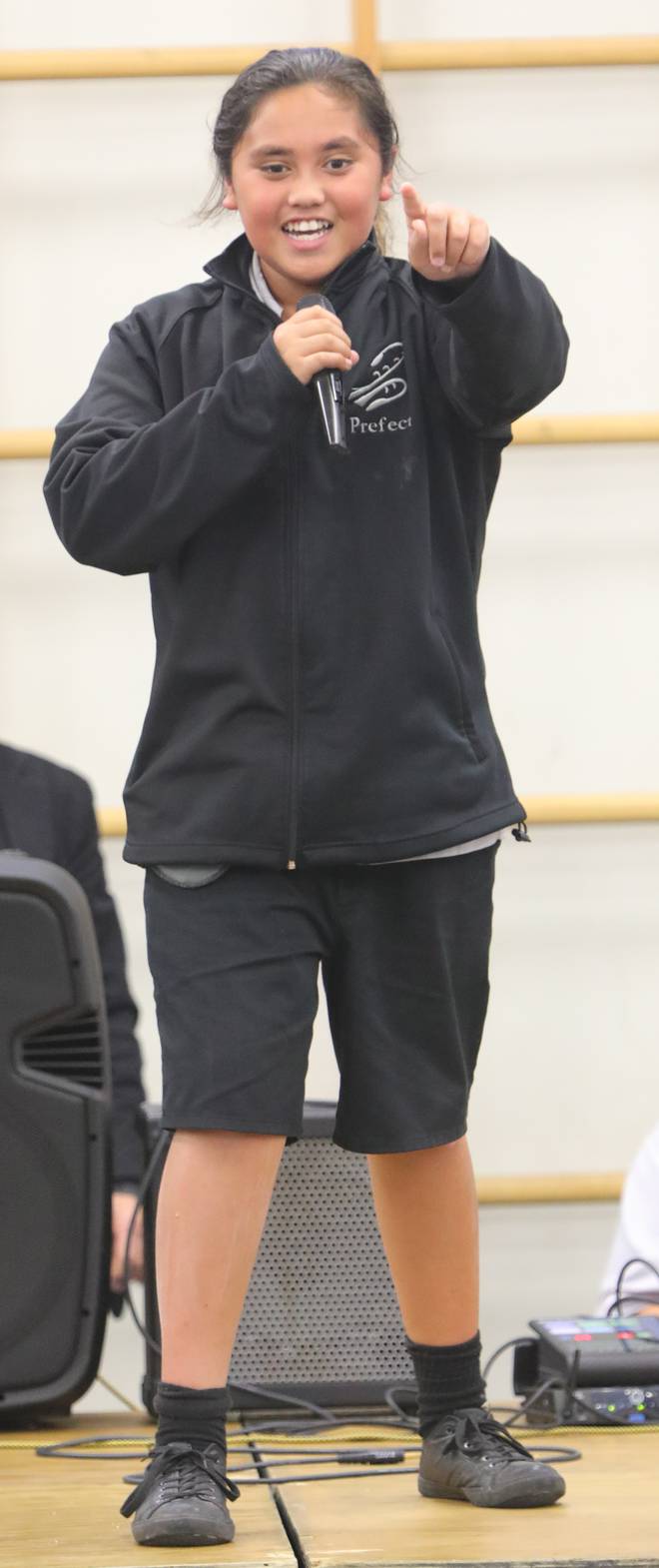 There was a core bunch of other performers who could have all easily taken a place. Wairua Sullivan will be one to watch if she knuckles down and concentrates on perfecting her naturally gifted voice and Paretoroa Webster is a born performer who loves the stage and has a voice to match.
Hemi Curtis wasn't placed but would have been a shoo-in and a challenger for Hunter's first place position had it not been for a tired and croaky voice that got the better of him. I've seen this kid perform before and he's simply "wow".
Turanga hit the nail on the head when we talked to the kids before prizegiving saying those sitting in the audience they were not to judge. Those contestants got up there and sang their songs as best they could and those watching didn't.
I'm sure the performances did the students, teachers, parents and music teacher Rob Powley proud. I don't know the kids and I was beaming like an embarrassing proud mother.
I'm lucky enough to be a regularly working musician. I don't leave for a gig saying I'm going to work, because music isn't a job, it's a passion.
If I have any advice for these young performers it is keep at it, learn an instrument and love every minute of what you are doing because there's no better place than being in front of a microphone doing music.