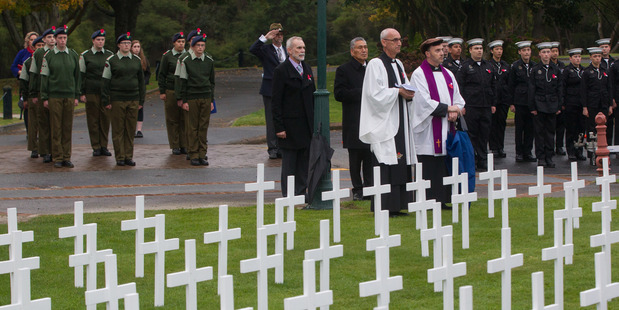 More than 100 people have braved the rain to remember the local soldiers who bravely fought for our country during World War I.
Rotorua's annual Field of Remembrance consecration saw 103 white crosses installed in Government Gardens tonight.
The crosses will be under the Cenotaph for six days to commemorate the Rotorua men who died during World War I.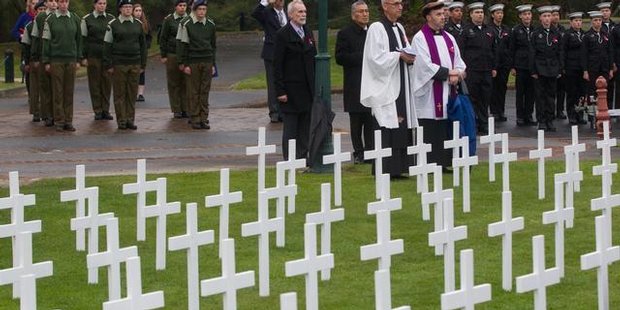 Rotorua deputy mayor Dave Donaldson opened the ceremony saying the men honoured in the Remembrance Field had a connection to Rotorua and the wider district.
He said some were born and had family here, others enlisted in Rotorua, but may have been living elsewhere and others came back to the district after the war and died here.
The crosses were made by members of Menz Shed Rotorua and feature the serial number, rank, initials and surname of each soldier.
One was for "The Unknown Soldier, Known unto God" - representing the many who died during World War I but were not known or recorded.
A special addition to this year's ceremony was the unveiling of the plaque for the Gallipoli Lone Pine opposite the Cenotaph.
The lone pine, planted at last year's ceremony, is one of 50 seedlings collected from a Turkish red pine growing at Paeroa Golf Course, which is a descendent of the Gallipoli peninsula's original Lone Pine.
One of the winners of the "My WWI Hero" story competition, Kate O'Leary, unveiled the plaque with Mr Donaldson.
Ngati Whakaue kaumatua Monty Morrison said it was wonderful to be able to attend the ceremony for a second year.
"It's been great to be able to commemorate the lives of those who lived and died over in Gallipoli."
A woven basket (waikawa) made by local weaver Lee Marjoribanks was placed at the base of the Cenotaph for people to place poppies for our fallen soldiers.
The waikawa was woven to represent the shapes of the ships that transported Kiwis to war and brought them home.
The waikawa will remain at the base of the Cenotaph for the six days of commemoration.