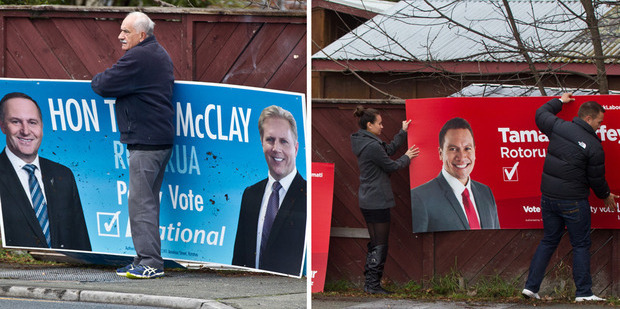 It was blue then it was red. Now a fence at a prime Rotorua intersection could soon be free of election signs altogether.
Yesterday National MP Todd McClay's signs on a fence at the intersection of Pukuatua St and Old Taupo Rd were replaced with Labour candidate Tamati Coffey's signs, after tenant Kayla Hayward called Mr McClay asking for them to be taken down.
However, the property manager, Richard Evans, contacted the Rotorua Daily Post yesterday and said it was not up to the tenant to make that decision.
Under the Rotorua District Council's election sign guidelines, a party must have the consent of the landowner prior to erecting any signs.
Mr Evans said he had given National permission on behalf of the landowner to put up signs. But Labour had not contacted him and he felt it was "irresponsible and disrespectful" of them to erect signs without his consent.
Mr Evans said he had not told Ms Hayward he'd granted National permission as it was "none of her business".
Mr Evans said he wanted the Labour signs removed, although he had not contacted Mr Coffey to request that, and he'd told Mr McClay the National signs could return. However Mr McClay last night said he would respect Ms Hayward's wishes.
"The tenant has said she's not comfortable with the signs there ... so we will not be putting them back up there," he said. "It's her home."
Ms Hayward, a Labour supporter, had said she would want to move out if the National signs went back up.
Mr Coffey admitted he had not sought permission from the landowner or Mr Evans as he was under the impression it was up to Ms Hayward.
He admitted that "maybe in hindsight" he should have also checked with the owner. However he maintained the owner should have asked Ms Hayward what she wanted.
"If you're going to put something up on someone's fence you should go and make sure they're okay with it."
Mr Coffey said he would be happy to discuss the issue with Mr Evans directly. In the meantime, he had no plans to take his hoardings down.
"Until something official happens, we'll leave them up."