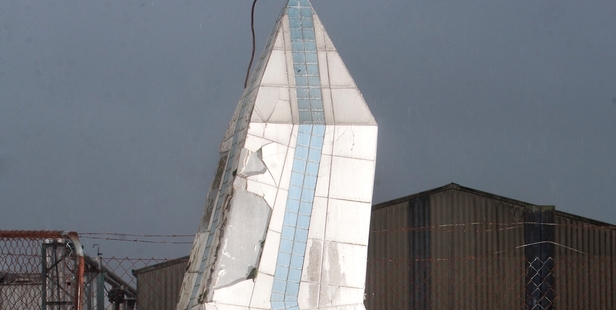 When I was a mere slip of a lad my Nan made me a jumper.
It was pale blue and had reindeer carefully knitted across the front. She gave it to me as a Christmas gift.
I hated it.
Besides the fact I'd been hoping for a new football rather than something you wear - sartorial elegance was not yet on my radar at age 9 - the damn thing hurt my ears when it was unceremoniously squeezed down over my head.
Protests were met with a simple rebuff. I should not be ungrateful. Nan had apparently made the garment from the finest Scottish wool. I deduced from this the sheep up in the Highlands must have fleece made of barbed wire.
Anyway.
Like most unwanted gifts, it could not just be thrown away, I was told.
That would be impolite.
And should I lose it Nan may make me an even sharper replacement. So I found a spot at the bottom of my wardrobe and effectively buried it.
Unfortunately I could not escape it totally and every time Nan came for a visit the offending garment was located by Mum, washed and the barb wire sharpened all before it was forced down tightly over my ears.
Over the years I discovered I was not the only one forced to play such a game with unwanted gifts. My mum would miraculously conjure up a glass bowl to be placed on the coffee table every time a certain lady appeared at our house, and Mrs P recalls a similar circumstance with a mirror many years ago. Though I did promise not to mention that.
I'd imagine most of us have been given something at some stage which we don't really like but have accepted, through gritted teeth and false smile, all the while planning to stick it in the back of the shed or "accidentally on purpose" push off the shelf the next time we get an earth tremor.
"It was only 2.8 and you hardly felt it? Well I tell you what it must have been right under our place. That lovely yellow and orange vase you got us with the teddy bears and alligators on it was smashed to a thousand pieces. Such a shame."
But like I say, unwanted gifts are a fact of life. In fact, all us citizens of Rotorua have been given one.
We got given a lightning bolt. Not a real one of course. Though that might have "sparked" a bit more reasoned debate. Boom, boom.
My memory is a little hazy of exactly how it happened but I'm pretty sure I was at a council meeting years ago when the gift announcement was made. The former Rotorua Area Electricity Authority was giving us a pressie to commemorate, er, something so memorable I forget what it was.
Before we knew what was happening it was unwrapped and in place. Smack bang in the middle of town. And we hated it.
Except me.
I quite liked it. In fact I distinctly recall trying to take it home in the early hours of the morning once. I figured it'd look good in my back garden.
Trouble was I couldn't move it. If I hadn't been in the middle of a big night on the booze I think I could've shifted it but by the time I was ready to give it another go, it had gone. By then my brain was working more appropriately. So I bought a garden gnome making a rude gesture instead.
Anyway, it seems our pressie ended up at the council yard. And there it has stayed all these years. Now the good folk of Ngongotaha want it.
That sounds okay in principle but surely politeness dictates we seek the approval of the artist before we give it away. If he's still talking to us, that is. I mean we've been calling his creation a urinal for the last 25 years or so. He might be a bit cross.
But if he's okay with it I think we should let Ngongotaha have our pressie and put the saga to rest.
And maybe we could come up with a nice little something for the artist just to let him know that while it didn't work out exactly how we'd planned we do appreciate his efforts.
I wonder if he'd like an old pale blue jumper made out of barbed wire with reindeer across the front.
Kevin Page has been a journalist for 34 years. He hasn't made enough money to retire after writing about serious topics for years so he's giving humour a shot instead.