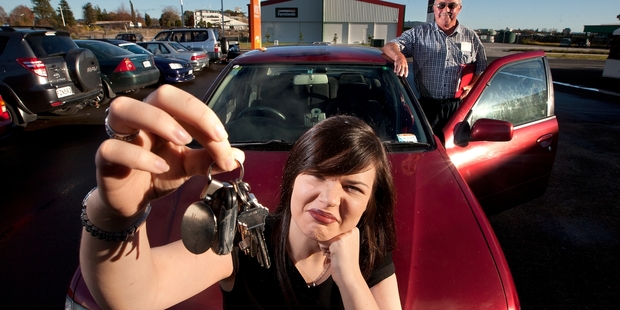 THERE has been a lot of debate about whether the new restricted driving test is so hard, it is setting people up to fail.
In Rotorua, the failure rate for those going for a restricted license has risen to 48 per cent since the test changed in February 2012.
I didn't believe it was really that difficult so went out with Allan Koller, owner of Allan's Driving School, to see if someone who already has their licence, would be able to pass the restricted test by today's standard.
I studied the road rules the night before, frantically trying to identify any bad driving habits I had picked up since I was granted the right to drive.
Do I check my mirrors every 10 seconds? Do I indicate long enough? When was the last time I drove with both hands on the wheel?
After a minor freak out I decided it would be fine. If I could get my licence once, how could I not get it again?
I was one of those "late drivers" and sat my restricted driving test last year in Auckland. I figured if I could pass in a city renowned for aggressive drivers and congested roads, surely I would pass with flying colours in Rotorua.
On the morning of the test I drove to VTNZ on Marguerita St and met Mr Koller.
Following introductions I was politely informed that if it were a real testing situation, I would have already failed because I was five minutes late.
Once we officially began the test, I failed within 12 minutes of being on the road. By the end of the 45 minutes, I incurred eight different "critical errors".
A person sitting the test can only incur two critical errors before they fail the assessment and have to return to the testing station.
After we had finished and I was feeling a bit dejected, Mr Koller said if I was sitting the old test, my "critical errors" would have been deemed minor, and I still would have passed.
Things such as waiting too long to turn right at a busy intersection and stopping unnecessarily at a give way sign used to warrant a reminder from the instructor. Now, extra caution gets the driver a big cross next to their name.
I have never claimed to be the best driver and will work on the "critical errors" I made, but I certainly wouldn't class myself as a dangerous road user.
With so many people failing, I would be more concerned with the potential increase in people driving on their learner's licence because passing their restricted seems impossible.
As Mr Koller said, there must be another way to make our roads safer.