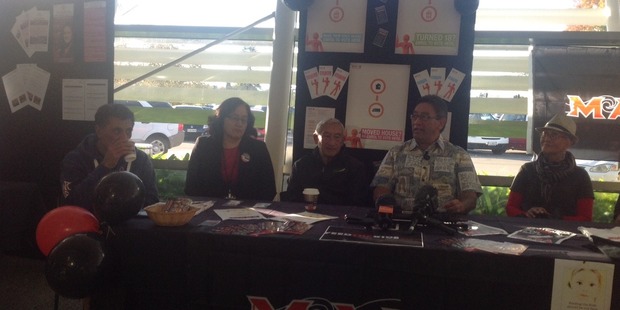 Mana Party president Annette Sykes is the latest candidate for the Waiariki seat.
The announcement was made by Mana Party leader Hone Harawira today at the Te Arawa Kapa Haka Regional competition.
Internet mogul Kim Dotcom was to be there for the announcement this afternoon but he cancelled due to a "personal family issue".
Mr Harawira said he was looking forward to Ms Sykes joining him in Parliament and described her as one of the strongest Maori women he knew.
Ms Sykes failed to be elected in the 2011 election for the same seat.
"She never got much of a shot last time. We were rushing around trying to save the world all at once," Mr Harawira said.
"Parliament will be changed forever when she comes in on the 21st of September (day after the general election)."
Ms Sykes said she proposed to make a very strong stand for Maori women and supported her people as an advocate.
"There is no barrier for Maori women speaking in this election for their community."
She was questioned on the relationship her party had with Mr Dotcom's Internet Party.
"I have a clear conscious working with someone who has disclosed to us his past," she said.
"I wish John Key would disclose to us what he is doing in the present, same with Judith Collins, who did they talk to in China?
"The Internet Party has announced two policies that are absolutely cutting edge, like Mana is," Ms Sykes said.
These were a privacy policy to disestablish spy Government spy agency GCSB and a environmental policy opposing deep sea oil drilling.
Mr Dotcom was disappointed not to make it to Rotorua.
"I was really looking forward to a wonderful programme today and send my best wishes to all the participants," Mr Dotcom said.

"In addition, I was going to use the opportunity of being in Rotorua with senior members of the Mana Party executive to continue discussing the ways the Internet Party and Mana Movement can work together.
"Those discussions are well advanced and we will now find other opportunities to carry forward the discussions."
Mr Harawira said Mr Dotcom has offered to assist Ms Sykes and the Mana Party with social media.
"Our aim is not to target Labour or Green Party voters but new voters or those who have fallen off the roll, we want to use social media to bring them back," Mr Harawira said.