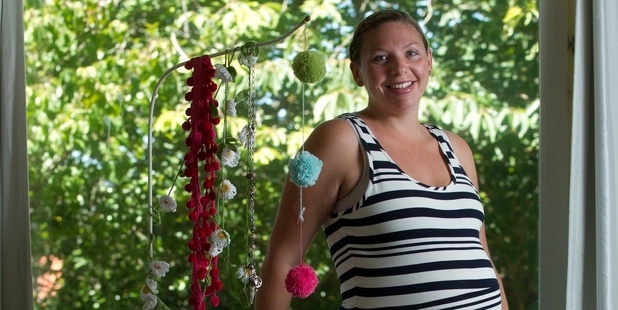 Ex-pat and mother-to-be Daisy Scott can't vote in this year's election but if she could, she would tick Labour based on the party's childcare policy announced this week.
Labour wants to give every family, earning up to $150,000, with a newborn $60 a week for up to three years to cover expenses.
Mrs Scott, who recently arrived in Rotorua from Perth with her husband, Pete, said the policy would win her vote.
"I would support it as long as it doesn't become an incentive for young mothers to keep having babies.
"Sixty dollars won't go that far but every little cent counts when you have a newborn baby to care for," she said. "It is definitely an incentive to vote Labour if you are going to have an extra $60 a week. We spend everything we earn at the moment with a new baby on the way and we will expect to tighten our belts when it arrives."
Mrs Scott, now seven months' pregnant, said she had already spent a "few grand" getting ready for the birth of her child.
"I won't be using disposable nappies so that has cost me about $1000 to buy re-washable nappies. We've also been buying a lot of second-hand things when we can."
The couple would use their family's 1920s bassinet for the baby to sleep in, she said.
Labour also intend to increase free early childhood education hours from 20 to 25 weeks, and paid parental leave from 14 to 26 weeks. The policies will affect 59,000 families, and cost from $151 million to $273 million a year if Labour are voted in.
Labour leader David Cunliffe said taxes would increase, including introducing a capital gains tax, to pay for the policies.
Mrs Scott said it was crucial to look after the next generation.
"Anything that will help families has to be supported, especially if it helps the mother stay at home."
Rotorua Parent Centre president Jo McQueen-Watton said any policy designed to be helpful for families should be supported.
"Any government incentive would be appreciated. The money would help cover the cost of nappies and formula for example.
"However I would be interested in how the payments were made, either directly or through WINZ, for example."
Rotorua School for Young Mothers childcare manager Carole Dean said the weekly $60 payment would help young mothers. "It depends on how they pay it as most young mothers are on the benefit."