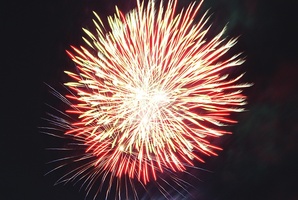 Paradise Valley Raceway's popular fireworks display ignited Martin van Tiel's life-long interest in pyrotechnics.
Dr van Tiel regularly attended the Rotorua Stockcar Club's opening meetings when he was at school.
"I used to come over and watch the racing and there was always a spectacular fireworks display," he said.
The Taupiri-based businessman, who has been lighting up festivals and sports stadiums with fireworks for more than a decade, is back in charge of the club's annual fireworks display tomorrow night.
The 15-minute show will fill the night sky with a colourful cluster of explosions - ignited from about 200 'shells' - depicting 150m high "glittering" white waterfalls and butterfly and octopus formations against the black backdrop, he said.
About 112kg of explosives worth $12,000 will be be used to release a fanfare of vivid colours - violets, pinks, orange and magentas - from inside the racetrack and near the pit area.
"There will be quite a variety of loud crackling noise, colour and effects . . . I expect it to be heard all the way into the town," Dr van Tiel said.
Rotorua Stockcar Club secretary Sonja Hickey said about 6000 people were expected at the annual fireworks display.