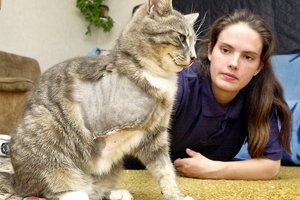 Guy Fawkes is back again and once more authorities are asking people to be considerate and careful towards the vulnerable.
Fireworks sales for the quaint English tradition, this year coinciding with a major horse race across the Tasman, go on sale tomorrow, four days before the main event next week.
Animal welfare volunteers and fire safety staff would be particularly vigilant during the following days as the festive celebration builds and subsides.
Rotorua SPCA centre development co-ordinator Debbie Van Den Broek said animals are particularly sensitive to loud, flare-ups from fireworks.
"The thing to remember is that animals can hear the slightest sound, even if we human's are not aware of it, and will react to it," she said.
Pets will flee their familiar surroundings to get away from loud noises during fireworks.
"A lot of animals go missing when fireworks start because they are so frightened.
"Often they may be gone for days, or months, or in the worst case never return."
The only solution is to keep pets inside the house or away from any fireworks on neighbouring properties, she said.
"It also helps to get them micro-chipped," she said.
"If they do go missing they can be safely returned to their owners."
A natural remedy - Calmex - is available from vets to help settle pets disturbed by the loud noises, she said.
Traditionally, Guy Fawkes is a busy period for the SPCA, not only on November 5, but for the four days leading up to when fireworks can be legally bought, and several days afterwards.
"It is a busy night and we will have staff available as well as the centre's ambulance for any emergencies," Mrs Van Den Broek said. The organisation took a dim view of people who deliberately use fireworks to harass animals, she said
"If anything untoward is witnessed happening with fireworks and animals we would like to know as soon as possible."
Rotorua Fire Service senior station manager Jim Prescott said three basic tenets of fireworks safety were: keep fireworks away from children; don't use fireworks in a confined space; and put any unused fireworks away so they can't found by children.
"We encourage people that, to get the best bang for their bucks, was to go to a public display," he said.
The Warehouse Rotorua manager Sally Rison said the store expected heavy sales when fireworks were on sale tomorrow.
Professional pyrotechnic staff are ensuring people will be entertained at a public fireworks display at Paradise Valley Raceway tomorrow night.
More than 100 kilograms, or around $12,000 worth of explosives will be used to light up the sky above the raceway.