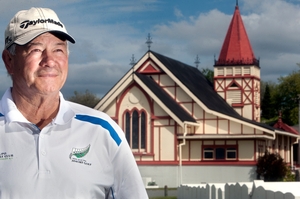 Golfers young and old are being encouraged to tee up to raise money for St Faith's Church in Ohinemutu.
The New Zealand Maori Golf Association is hosting a charity tournament on Friday November 29 at the Lakeview Golf Course and Rotorua Golf Club.
Vicar's warden Don Bennett said he was delighted with the partnering of the New Zealand Maori Golf Association and the church.
"We've gone to businesses and invited them to enter teams in an Ambrose-style tournament which will be followed by a dinner. Their sponsorship is going to a very important cause - and they get to have a great day's golf in the process," he said.
St Faith's turns 100 next year. The year will also be extraordinary for the church, as it will be dedicated as a Cathedral Church, a first in New Zealand.
Sponsorship of $2000 entitles businesses to field four players and a table for 10 people at an evening dinner and entertainment event with Rim D Paul.
All money raised will go to the maintenance of the church.
New Zealand Maori Golf Association executive committee member and Rotorua golfer Tom Walters said there was a lot of excitement brimming.
"St Faith's is a very worthy cause - the church is dependent on us to raise funds for it. It gets a lot of use for everyone. We'd also like to raise the profile of golf - get a lot more of our older people playing.
"Golf is a healthy sport and available for all ages. The more people, particularly Maori, we involve in sport and be active, the better."
Information email NZMGA manager John Cribb, on gm@nzmga.org.