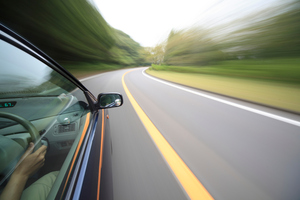 Two young Rotorua men have been disqualified from driving with one being told he was "lucky to be alive" after crashing into a concrete wall.
Jesse Khan Dixon, 22, appeared for sentencing yesterday before Judge James Weir in the Rotorua District Court for operating a motor vehicle causing injury and driving with excess breath alcohol.
A second driver, Tyler Price, 18, was also sentenced for operating a motor vehicle in a race and for speeding which occurred during a separate incident.
According to police summary of facts, Dixon was driving near Pukehangi Rd about 10pm on April 24. He had been drinking at home and was intoxicated.
On Clayton Rd, he met another man, Price, who approached Dixon and asked him if he wanted to race.
The two took off at speed and turned into Pukehangi Rd.
"Witnesses observed the vehicles were doing speeds of 120-200km/h," Judge Weir said during Dixon's sentencing.
"It was described by one motorist that they were going 'scary fast'."
Dixon was driving 1m behind the other car and as they rounded a bend, Price lost control and hit a concrete wall.
Dixon checked on the injured driver before leaving the scene.
Police found Dixon a short time later with an alcohol reading of 719 micrograms of alcohol per litre of breath. The legal limit is 400.
"After checking on him you left the scene, which is an indicator of your gutlessness," Judge Weir said.
"The [pre-sentencing] report says you have expressed remorse and are regretful the other person received injuries. But I am less impressed by the fact you left the scene of the accident.
"Clearly you have problems making the right decisions."
Dixon was sentenced to three months' community detention for the driving offence. He was also ordered to do 200 hours of community work and disqualified from driving for 15 months for the excess breath alcohol charge.
Meanwhile Price suffered an abdominal wound, lacerated liver, spinal, neck and pelvic fractures and a head injury from the crash. The court heard that he had made a "remarkable recovery" but still suffered from pain.
"You're lucky to be here Mr Price," Judge Weir said.
"You certainly came off second best in this really stupid episode that took place. You made one really, really silly mistake, one that nearly cost you your life."
Judge Weir took into account that the defendant had no previous convictions.
Price was fined $1000 and was disqualified from driving for nine months.