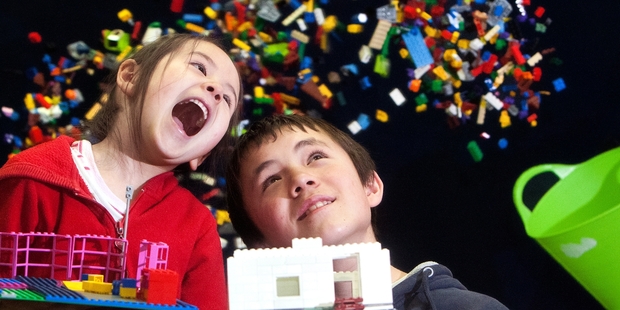 A decent home is one built on poles, according to Rotorua's Euan Robinson.
Euan, 12, and his sister Eirwen Robinson, 5, built houses out of Lego yesterday during Habitat for Humanity's Build Challenge at the Rotorua District Library.
More than 30 children built Lego homes at the library as they learnt about housing problems in New Zealand.
Euan spent more than an hour building his house which was based on their family home in Rotorua.
"Our house is on poles, so I took the idea from home," he said. "It is earthquake-proof."
Meanwhile, his sister said the most important aspect of her Lego house was the colour.
"The windows are pink, that's my favourite colour."
All the children were asked to build a house which they thought would be suitable to live in.
Habitat for Humanity resource development manager Karlijn Nelissen said it was all about having fun while learning about housing problems.
"Our aim is to educate young people and their families, in a fun way, about New Zealand housing issues while hopefully fuelling a passion for helping others that grows as they grow," she said.
Habitat for Humanity aims at eliminating poverty housing and homelessness by building decent places to live.
This is the first year the non-profit organisation has held the school holiday event in Rotorua and it is expected to next year.
Children taking part yesterday had their Lego houses photographed and put online, where people can vote for their favourite.
Lego packages will be awarded to the five participants with the most votes and people can still enter online.
Go online to www.buildchallenge.org to enter or vote.
Habitat for Humanity also runs a local high school programme through Rotorua Boys' High School, where students help with real-life housing projects.