Manufacturers seem unable to rectify design faults of the farmer's friend - but it can be done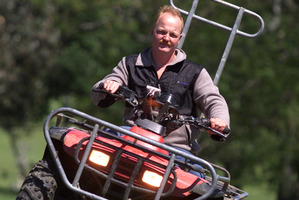 Why do quad bikes always seem to miss out on the kind of innovation that has revolutionised car safety - ABS, stability control and so forth?
Remember, you sit on top of these things almost unprotected as they go over sometimes steep ground. A little electronic wizardry, perhaps a screeching roll-over sensor, or something to over-ride poor acceleration or braking choices on the part of the rider, would come in handy.
Some argue that a quad bike is no more likely to crash than a farm motorcycle, and I do take their point.
But if a two-wheeler throws you off its back, it generally does not then crush and asphyxiate you as well.
Maybe this is why the American College of Surgeons has found quad bike crashes to be 50 per cent more likely to result in death, compared to off-road motorcycle crashes.
While I acknowledge quad bike manufacturers support rider training, education and helmet use - and good on them for that - the basic question mark hanging over their flawed product is mysteriously ignored.
Despite the parade of newer, more powerful and exciting-looking quad bikes released on to the market each year, in my view the lack of smart driving/riding technology, plus basically flawed overall design, keeps these machines stuck firmly in the 20th century.
Modern quads are built to a design ACC calls "inherently unstable". ACC also notes quad bikes have "a narrow wheel base and a high centre of gravity". They derive not from something purpose-built for outdoor work, but from a family of four-wheeled recreational vehicles from about 30 years ago. In my view, this is a shameful indictment on the vehicle which has become the preferred option for getting around farms, plus numerous additional outdoor work roles. Surely we could design a machine just as useful, which is not inherently unstable.
Each year has averaged five farm quad bike deaths, while more than a quarter (28 per cent) of all farm accidents involve these vehicles. At least 845 people are said to be injured on quad bikes with 160 of those suffering serious injuries requiring time off work. I'm told many more quad bike injuries go unreported, perhaps to avoid insurance penalties.
Farmers appreciate the traction, power and versatility of modern quad bikes, sure. But quad bikes are a strange friend to the New Zealand farmer. ACC says time riding quad bikes is likely the cause (or at least makes worse) the back problems suffered by 60 per cent of farmers. And remember, the average age of works on quad bike safety these (mostly) guys is 58. ACC also predicts 60.8 per cent of quad bike-riding-farmers will experience a loss-of-control incident.
"Some suffer nothing more than a loss of pride, maybe a bit of bruising and the odd scratch. But 6 per cent will be hurt badly enough that they will need medical help, and most seriously enough to need time off work."
WorkSafe Victoria labels quad bikes a leading cause of on-farm injury and fatalities in Australia.
"Based on the 10-year average, 13 [Australians] are killed each year, with almost 50 per cent of these resulting from rollovers of the vehicle and death is frequently due to crushing or asphyxiation."
Previously in Driven, I suggested Kiwi ingenuity could come up with a better design idea to transport farmers and their gear. And plenty of Kiwis have put their minds to this one.
Big manufacturers - Honda, Suzuki, Yamaha, Kawasaki, and others - may be too tired to solve the problems. But not these guys:
*In 2000 Todd Sheppard, then a dairy herd manager in Ngahape, south of Te Awamutu, got designing after a near crash on his quad bike. In total, he rolled quad bikes six times during his 14-year farming career. Todd, who has now left farming, says the most unsafe time is working in poor light, early in the morning, "because you cannot orientate yourself well enough on steep slopes". His invention, which took just six weeks to build, detected critical tipping angles (about 32 degrees) and sounded a tone until it was reset, alerting both rider and anyone nearby to the crash. The instrument also acted to some degree as a black box, logging details of a crash which could later be downloaded to a PC. Todd said the system could also be connected to the horn if desired, "so that if the quad bike crashed, the horn would keep sounding to alert others". But though he received much encouragement from ACC - once it heard what he was doing - Todd claims a quad bike manufacturer refused to provide machines to test the invention.
*Last year, as an industrial design project, Massey University industrial design student Tom Marshall created a revamped quad bike design, the Huntaway. Tom's revamp features a roof and roll cage, plus a centralised self-righting seat (with lap belt). This swivels up to 15 degrees each way but it locks in position if the vehicle starts to go over. This movement of mass improves the performance of the quad bike when cornering and moving along slopes. The strapped-in driver retains the ability to transfer body weight, helping keep the machine stable. "The Huntaway acts as an interim between farm ute and a farm bike," he says. It is designed to carry loads safely and would be ideal for small jobs such as fencing. The petrol tank is mounted low to make the machine easier to mount and a flat engine configuration used to lower centre of gravity and prevent vibration leading to back problems.
*Another industrial design student at Massey, Nick Marks, of Torbay, designed a new ATV concept last year. After much research into the problem of quad bike crashes, Nick built a machine with a revolutionary suspension system, which he calls "auto-balancing". This is used in conjunction with electron over-rides of braking and throttle, to lessen the risk of flipping when climbing or descending hills. Nick built his quarter scale prototype - which proves that the system works - following weeks of test riding quad bikes in the steep Waiwera Valley. "Quad bikes definitely need electronic stability over-rides, to counteract rider error, and I can't understand why they don't already have them."