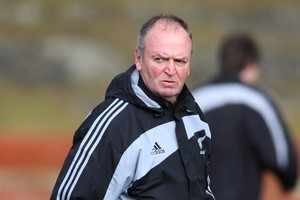 So more than 180 former Super rugby players from this country are earning a living overseas. That's 12 complete teams of senior players lost to New Zealand. Twelve ... !
It's enough to make you start demanding that the All Blacks select overseas-based players. Or is it?
Certainly, finding Dan Carter's back-up is a troublesome enough task and might tempt you to turn to Nick Evans. But I still believe that the NZRU should stick to its guns and keep trusting in the quality coming through.
Look at the Carl Hayman example. A year or two ago, we would all have sold our grandmothers to get him back. Now he can't even get a start for his French club; ousted by a prop from Georgia.
In that same time, the Franks brothers, particularly Owen, have come through to take their place alongside Tony Woodcock - if he ever gets out of a moon boot. Wyatt Crockett, John Afoa and Jamie Mackintosh have also made strides.
Look too at the under-20s cutting big holes through their opposition at the moment. That big win over Wales, 92-0 tells a story. There is a lot of quality on the way up and we'd be best advised to wave goodbye to those seeking the dollar overseas.
Graham Henry underlined that this week - that selection would likely favour those staying in New Zealand. Quite right.
I'd agree, too, that there needs to be a flexible contract offered to Ma'a Nonu to stop him heading offshore. Some people will be surprised I feel like that after my criticism of Nonu and others at the Hurricanes last week - but Nonu has shown a fair bit of loyalty to the Hurricanes and to New Zealand rugby.
He would have re-signed at the Hurricanes if he hadn't been shown the door. It's only the upset at the Hurricanes that is forcing him out and, if a way can be found to keep him, I'd suggest we find that way.
I'd be tempted to stick a three or four-year contract in front of him which gives him the ability to play overseas or have a sabbatical in the middle part of that contract only.
I also heard Henry saying this week that they have selected the Tri Nations (and thus the World Cup squad, barring injury...) already. I wonder if that's right or if it's a Henry red herring.
If they have already selected Carter's back-up, that suggests that it is not Colin Slade - who has had little rugby with his broken jaw episodes.
That could point to Stephen Donald, as Luke McAlister has played his way out of contention and Aaron Cruden still doesn't look ready to me. Stephen Donald, eh? Brave stuff, if that's right. I have made my views on Mr Donald known before and they don't include him wearing an All Black jersey.
There's also an interesting situation brewing in the selection of the back three. Israel Dagg is injured and most in danger of missing the World Cup, Isaia Toeava is injured but on the way back, Mils Muliaina's form is only average and Cory Jane's isn't anything to Twitter about.
On the wings, Zac Guildford is showing real form; Sitiveni Sivivatu seems to be getting back to his best (although he's off overseas as well); Hosea Gear has suffered because of the Hurricanes' form; Rene Ranger is out of consideration now, as is Sean Maitland. Joe Rokocoko seems out of favour now.
So we are looking a bit thin in an area previously considered a strength and, if the selectors have already chosen their men, it would also suggest that people like the Highlanders' Ben Smith have an excellent chance of playing World Cup rugby.