Adderess:
Marine Parade, Queenstown
Phone:
(03) 441 0450
Rating out of 10:
Food: 7, Service, 7, Value: 9, Ambience: 8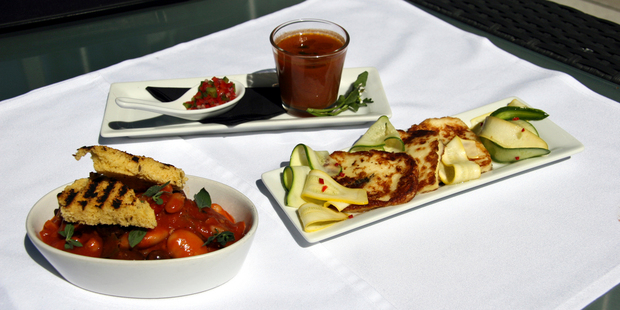 There's something very "Downunder" about the service in Queenstown. Waiters, bartenders, receptionists and shopkeepers take that relaxed, "she'll be right", Kiwi attitude to a new high.
There we were at Eichardt's famous hotel, sitting in a stylish pebble garden on large comfy chairs around a table decked out with a thick white cloth, overlooking lovely Lake Wakatipu and munching happily through the excellent wines and tapas menu. Every so often one of us would have to trot inside and ask for more.
"No problem," would be the answer and out the waiters would come, take our next orders, then cheerfully deliver yet more brimming dishes from the kitchen. They even topped up our wine glasses and cleared our finished plates from time to time.
It wouldn't happen in Auckland, where restaurateurs hurry you through, hoping for at least two parties per table over an evening. But in this tourist mecca we were expected to dawdle and it was incredibly relaxing - a little like having a dinner party served by an enthusiastic bunch of your kids' friends.
We started with gazpacho soup, the only tapas on the menu meant for just one person. Each glass of soup was accompanied by a heaped spoonful of finely-chopped herbs, capsicum and tomato, to be stirred into it.
The finished concoction (only $4 each) was delectable: chilled, spicy and fresh, it was the perfect start to what turned out to be an excellent dinner.
Our next orders arrived at once and disappeared almost as quickly. The salt cod croquettes, accompanied by a bright green herby emulsion, went first, followed by the fried haloumi, which arrived bathed in oil, browned to perfection and surrounded by ribbons of raw green and yellow zucchini.
The cheese was quickly polished off and declared light and chewy, just as it should be. The zucchini was so good raw I wonder why we bother to cook it.
By then it was time for another trip to the bar to order a couple of servings of bruschetta with roasted eggplant, tomato and feta and another plate of calamari in squid-ink tempura batter. For most of us the calamari was the high point of the night. We'd never had squid ink tempura, but we all want to have it again. Sure, the fish looked strangely dark when it arrived on the table, but once the batter flaked off and meshed with some of the most tender calamari I've ever tasted, the combination was fabulous. The other high point was the crostini with eggplant and feta.
For Rusty, the roasted pork belly was perfection, although I thought it a little dry and tough on the bottom.The chorizo sausage in tomato sauce with olives, white beans and grilled cornbread was also a knockout, and generous considering the plates (we had two) were only $8.50 each. Then there was the wild game terrine (okay) plus a serve of local jersey bennes, roasted to a golden crisp, then finished with capers and chilli. They also improved our vegetable to meat, fish and cheese ratio to something approaching satisfactory.
So, apart from the marinated olives with crostini and sugared and spiced mixed nuts, we had worked our way through the entire menu. And what a pleasure it was.
By then most of us were snuggling in the blankets cheerfully offered to ward off the chilly wind blowing up from the lake, the gas heater was blaring and we were in the mood for yet more wine and sweets. While the others feasted on chocolate slice and white chocolate mousse, I opted for the Cromwell raspberry and mint granita, which turned out to be the best dairy-free dessert I've had anywhere so far.
In all, it was a memorable night. The food was excellent and the wines, nearly all of them from Central Otago and surrounds, were truly exceptional. And as I said earlier, the service was down-home friendly, no matter how many times we asked for more.

Our meal: $296, including a bottle of chardonnay and seven glasses of various aromatics.
Wine list: A magnificent range of local wines plus a few stunners from abroad.
Verdict: Eichardt's chef has created a symphony of tapas dishes that delight the palate and thrill the senses - at sensible prices - served with relaxed good humour on Queenstown's glorious beach front.