Herald Rating: 5/5
Address: 129 Parnell Rd, Parnell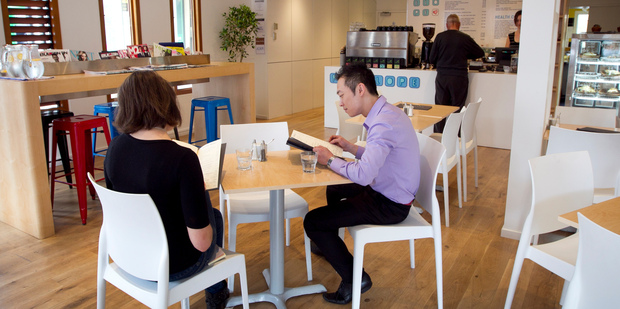 We came here because a friend who works nearby had raved about the coffee from barista/owner Adam Li, formerly of Melba in Vulcan Lane.
Parking was surprisingly easy (it was 10am on a Wednesday). We found a pay and display spot opposite.
We walked in and thought we'd wandered into Ikea. Penelope's light, airy interior, colourful artworks and pale wood furniture suggest modern Scandinavian design. And it's perfectly positioned to catch the morning sun.
The most unusual thing on the menu was the buckwheat soba noodle salad with soft poached egg, pickled ginger, avocado and dashi broth ($16.50).
We ordered the spiced zucchini fritter with tzatziki, feta, mint, fresh rocket salad and bacon ($19.50) and the protein power breakfast from the "health conscious menu" - scrambled egg white (and one yolk), avocado smash, sauteed baby spinach and mushroom, with a choice of bacon, smoked salmon or smoked chicken ($18.50).
Fleur's fritters were moist and full of flavour and went well with the lemony tzatziki. I was worried I'd ordered from a diet menu, but my power breakfast would have satisfied a body builder. Both meals were delicious, beautifully presented and grease-free.
The service was attentive and friendly, both from Li and our waitress.
The coffee was a work of art. Li created cat faces on the surface of our first flat white and latte and a portrait of my face (seriously!) on the second.
We recommend if you come here don't be put off by the main meal prices, which range between $15.50 and $20.50. They're worth it.
Overall we thought Penelope offers an imaginative twist on brunch and provides the level of flair and attention to detail you'd expect to get over dinner at a good restaurant.