Address: 460 New North Road
Phone: (09) 846 9997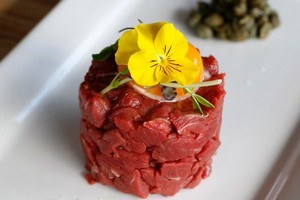 "They've got Moa," said Bill, and took off across the road like a demented conservationist who'd sighted an extinct bird. But he hadn't, of course - it was just beer.
"Ah," he said as he took his first sip. "That's more like it."
He had been lamenting the running-down of our usual drinking hole, and looking for another deserving of the honour. I think he might have found it.
Page's, named after a general store run by the Page family, occupies the space previously known and loved as Deve. It has had one or two incarnations since Deve closed in about 2009, but we're hoping this one lasts.
We'd called in for a drink a couple of times, but thought it was time to try the food. It didn't let us down.
We were shown to a table by the window (the only place to sit, in my view) and started reading. It didn't take long - nine starters, 10 mains - but choosing took longer.
In the end I went for the portobello mushrooms with gorgonzola, fried polenta, onion confit, pine nuts and salad leaves. The polenta was crispy round the edges, the gorgonzola didn't outdo the mushrooms, and the tomato coulis moistened it nicely.
Bill was a little more adventurous with his steak tartare. He hadn't had this since a rather unfortunate lunch in Paris some 35 years ago, but the memory had lingered. Nevertheless, he gave it a shot, and was delighted with the tender chopped beef, mixing it thoroughly with the raw egg and aioli. The little I managed to try was very good indeed - quality steak matters here.
I was a little taken aback to be asked how I wanted my pan-roasted duck breast - tender and well-cooked, I replied, and so it was, nestled on a bed of braised red cabbage, with pea puree and delicious wee broad beans, my new favourite vegetable.
Bill's pork belly was a simpler version than the more usual offering, accompanied by just a sweet potato mash and jus. The pork was meltingly tender, and the mash a good choice.
Such a simple dish left room for dessert, so Bill, a country boy at heart, went for the bread and butter pudding medley.
And what an assortment it was. Banana bread pudding with vanilla icecream, brioche with chocolate sauce, and french toast with syrup and blueberries. Three different puddings, really, but in manageable quantities, and quite delicious.
Chef Angellic Lokeni, from Niue, has no formal cooking training behind him. He cooks from the heart, and has an instinct for what works. He is part-owner of Page's, and our waiter Jonny, he of the Energiser bunny demeanour, is also the general manager.
Let's hope they stay. We've found our local.
Rating out of 10
Food: 8
Service: 8
Value: 8
Ambience: 6

Our meal: $159 for two starters, two mains, one dessert, two beers, two glasses of wine and brandies.
Wine list: Brief but adequate.

Verdict: The surroundings aren't brilliant but the food is. Isn't that what counts? And the beer, of course.