Herald on Sunday rating: 3.5/5
Address: Elliott Stables, 39-41 Elliott St
Phone: (09) 303 0217
Website: besoslatinos.com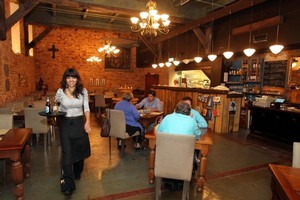 Chef Luis couldn't - well, wouldn't - make us ceviche.
This dish of marinated raw fish, part of the coastal cuisine everywhere south of California, was a no-brainer order when I sat down to lunch with my daughter, who was just back from a year-long sojourn in South America. She lived on it in Peru and I have fond memories of doing the same in Ecuador in the 70s when I hung out at a down-at-heel beach resort where ceviche and cerveza (beer) was the staple diet.
Cabrera had started preparing it in the kitchen and decided the fish wasn't good enough. Another order was due in the afternoon, he explained, but in the meantime ... he shrugged helplessly.
It may be, of course, that Cabrera (who did not, incidentally, know I was a reviewer) is the only chef in my substantial dining experience to have been dissatisfied with the quality of his ingredients, but you'll have to forgive me for doubting that. I am more inclined to think he's just fussier - and franker - than some of his peers.
The rest of the lunch - $25 a head for two courses and a glass of wine or beer - gave a good account of Cabrera's menu, which contains specialties of Argentina, Chile, Peru, Bolivia, Cuba and his native Mexico. It was enough to persuade me to return - with both the Latinophile kids - for an evening meal.
It has always puzzled me that Auckland, a city with a substantial Latin American expatriate community, is so short of restaurants representing its various cuisines. I exclude the taco-and-enchilada joints whose low-rent versions of Tex-Mex have given Mexican food such a bad name.
Honourable exceptions (Mexican Specialties in Ellerslie; El Camino in Kingsland) only prove the rule: the fact is that I've not found a lot of South American food to write home about here. (My daughter's response - "Let's face it, Dad: there's not a lot of South American food to write home about in South America" - may be attributed to the fact that she spent her time there living on $5 a day).
Cabrera hopes that his place, whose name means "Latin kisses" and whose garishly floral livery is less macho than the food, will show diners that there's more to the region's food than the much-abused fast-food fare.
His background is in hotel hospitality, so his cooking is not necessarily purist: there's Kapiti edam in one of the meat dishes and a grilled-cheese dish uses halloumi, a cheese of Mediterranean origin.
I might have wished for a little more piquancy. The ceviche - second time lucky - was sensationally fresh and the fish had sensibly been only briefly marinated in lime and lemon juice, so as to retain its flavour, but although it left my tongue smiling, it could have done with more chilli and red onion.
The beef dishes both featured marinated flank steak, an agreeably chewy cut which worked well with the accompaniments: frijoles charros (the name means "cowboy beans" but the beans are pinto) in one dish; pepper, onion and mushrooms in the other. A fish dish of Cuban origin tasted nothing like any fish I ate in Cuba, which is to say it was very good indeed.
In a cavernous former warehouse at the back of the expanded Elliot Stables precinct, Besos Latinos is certainly worth checking out. Tell Luis I sent you.
Ambience: Aptly garish
Vegetarians: Well-served. Gluten-free options, too
Watch out for: The unexpected
Bottom line: Viva America Latina!
THE BILL
$188.50
Ceviche (3): $48
Mains: $28-$34
Salad: $7.50
Malbec: $39