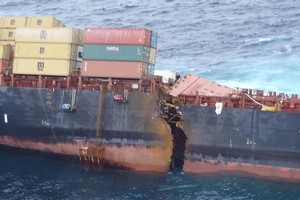 Salvors are yet to determine whether there is anything holding the two parts of the stricken cargo ship Rena together after a crack in the vessel widened in bad weather.
The ship, which is perched precariously on the Astrolabe Reef off Tauranga, was battered by 5m swells on Saturday, sparking fears it could have broken in two.
Maritime New Zealand said yesterday it was still possible the two parts of the ship were joined underneath but this would have to be verified by divers.
The crack was allowing the aft section to move more freely in the water but the ship was still sitting firmly on the reef, where it has been since grounding in early October.
The agency said the widening of the crack was not unexpected and further damage and the loss of containers in bad weather were likely.
Two shipping containers which fell overboard on Saturday were yet to be found. Shipping lanes were scanned with sonar and found to be clear.
Salvors were on board yesterday assessing the damage and a helicopter surveyed the ship from above.
It spotted more timber and packets of milk powder that had washed ashore on Motiti Island, as well as a light sheen of oil around the ship.
Brian Dale, a spokesman for the container removal firm Svitzer Salvage, said it was too early to say what the damage meant for the salvage operation.
"Until the divers go down we don't know exactly what the situation is below the water line, so we'll just have to wait and see.
"But the fact that the cracks have opened is not unexpected and is within the plans that we had."
Two-metre swells in the Bay of Plenty last night were expected to ease today.
- APNZ