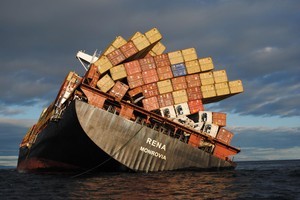 The issue of offshore oil exploration loomed large over a election debate on environmental policy, climaxing with a furious defence of the government's response to the Tauranga oil spill by Environment Minister Nick Smith.
With the stricken container ship Rena at risk of breaking up overnight, a combative Dr Smith said the disaster was not an omen that the National Party should back off on its plans for oil drilling in deep water.
In the most heated moment of the meeting in Auckland last night, he said finger-pointing was completely inappropriate while "guys are out on the boat tonight risking life and limb to protect our environment".
His defence followed a comment by Greens co-leader Russel Norman, who said reports on responses to the incident had were one-sided and had so far only come from people with "vested interests".
All three members of the debate - which also included Labour Party energy spokesman David Parker - agreed that an independent inquiry needed to be opened into the oil spill.
Such an investigation would involve cross-examination of people in key roles.
Dr Smith reaffirmed the Government's intention to pursue deep water drilling. He said the public would get notification before permits were issued, and legislative reform would ensure improved safety. He stressed that the Rena oil spill should not prompt a reassessment of drilling.
"There is a mismatch between the risks of the shipping industry and the drilling industry."
There were no clear winners in the debate, though Dr Norman received the most applause for his warnings against drilling at a depth of 3000 metres.
He pointed out the the BP oil spill in the Gulf of Mexico occurred at just 1500 metres, and New Zealand did not have the reserve wells or technology to respond to a comparable disaster.
He said environmental bottom lines should not constantly be compromised by a need for economic balance: "Do we take more and more risks to get the last of the oil or do we focus somewhere else and not put everyone's environment at risk?"
Mr Parker suggested that oil spill response units should be paid for by the industry. He said that in a time of dwindling fossil fuels, subsidising of some technologies - such as caps for oil spills - hindered the development of others, such as renewable projects.
The other contentious point of the meeting was the issue of central government meddling with Auckland's affairs, in particular green initiatives. Speaking about Auckland's ambitious plans for public transport, Dr Norman said: "Auckland is going in the right direction.... and government is constantly shafting them."
Dr Smith responded that this was "expansive rhetoric" and Government could not write blank cheques for rail expansion without robust cost analysis.
On the subject of climate change, Mr Parker said agriculture had to be brought into the emissions trading scheme by 2013, while Dr Norman argued the ETS must be rapidly strengthened and lignite mining by Solid Energy stopped.