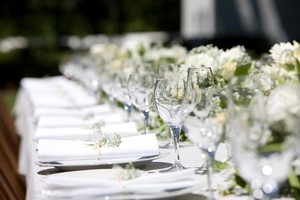 This week I became a Leaper - one of those women who take advantage of an old Irish tradition whereby a woman has the right to ask a man to marry her. If she is refused, the man is obliged to buy her a gift - kid gloves, a gown, a dowry - it depends on which story you believe.
And this leap year, the Irishman and I decided to go for it. We've been talking about marriage for years but the longer we stayed together, the less important it seemed. Saving for a wedding seemed a frivolous luxury when there was a household to run and bills to pay and teenagers to subsidise and renovations to undertake.
However, neither of us is getting any younger.
So I bought him a card and wrote a nice note and sealed the deal with his favourite bottle of whiskey.
My sister-in-law was most disappointed. "You could have done better than that!" she expostulated.
"You can't be giving him whiskey!"
And so it begins. A year of people telling you what you should and shouldn't do at your own wedding.
"I am doing this wedding my way," I told her firmly, "and if you want to stay at the top of the invite list, you'll do well to remember that."
I probably will succumb to bridal fever at some point - having a meltdown over the invites or stressing over the extra 10kg (though if Kim Dotcom lost 16kg in a month on remand at Auckland prison, I might see if I can get locked in a cell for a few weeks. I know of no spa that guarantees that sort of weight loss.)
We don't have a date yet or a ring. I have no idea what dress I'll wear. But given we're still recovering from my daughter's wedding, I can guarantee it will be low-key. Fish and chips and Champagne on a beach would do me.
All I hope is that our lives as a married couple will be as happy and challenging and exciting as the 14 years we've had of living in sin.