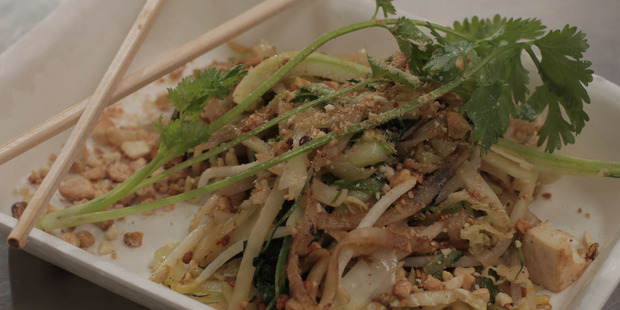 Ingredients
• 200g dried flat rice noodle
• 1 Tbsp peanut oil
• 200g firm tofu, cut into small cubes
• ¼ savoy cabbage, finely sliced
• 2 baby bok choy, finely sliced
• 4 spring onions, finely sliced
• ½ green papaya, peeled, seeds removed and sliced
• 1 cup mung bean sprouts
• Small bunch coriander
• ½ cup roasted cashew nuts, chopped
Tamarind dressing - Makes 1 cup
• 3 Tbsp tamarind pulp
• 1 cup hot water
• 1 small red chilli, deseeded and finely sliced
• ½ cup vegetable stock
• 2 Tbsp fish sauce
• 4 Tbsp coconut sugar
• Pinch white pepper


Dressing
1. Soak tamarind pulp in hot water. When cool, use your hands to mash the pulp up. Push pulp through a sieve. Retain puree and discard pulp.
2. Add chilli, vegetable stock, fish sauce, coconut sugar and white pepper to tamarind puree. Place in a jar and keep in the fridge until ready to use.


Pad thai
1. Soak rice noodles in cold water for 1 hour.
2. Heat peanut oil in a large wok or frying pan over a high heat. Add tofu and cook until golden brown on all sides. Remove from wok and set aside.
3. Add green vegetables to wok and stir-fry until just wilted. Add papaya, drained rice noodles and 3 tablespoons tamarind dressing, and toss.
4. Add mung bean sprouts, chopped coriander roots and most of the coriander leaves and toss well. Return tofu and toss again.
5. To serve, place pad thai in serving bowls, top with cashew nuts and remaining coriander leaves