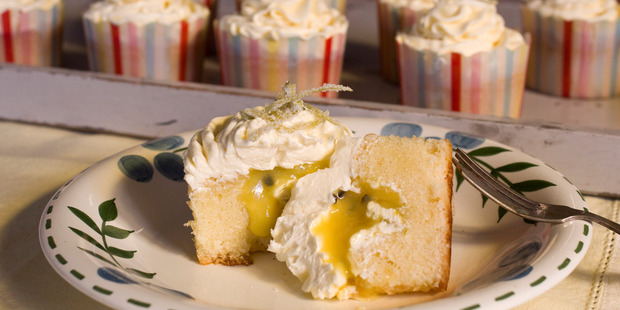 Makes 18 large cupcakes
White Chocolate Cupcakes (this is a fab recipe given to me by Julie Christie - best one I have used)
• 250g butter
• 150g white chocolate
• 1 ¾ C caster sugar
• 1 ¼ C milk
• 1 ¼ C flour
• 1 ½ tbsp cornflour
• ¾ C Self Raising Flour
• ½ tsp vanilla essence
• 2 eggs
Lime and Passionfruit Curd
• 60g lime juice
• 60g passionfruit pulp
• 60g sugar
• 50g butter
• 1 large egg
Swiss Meringue Butter Cream
• 5 egg whites
• 1 C caster sugar
• 450g unsalted butter (cube and at room temp)
• 1 tsp vanilla essence


1. To make the cupcakes set oven to 150C.
2. Combine chocolate, butter, sugar and milk in a heatproof bowl and place over a pot of simmering water. Stir until combined and sugar dissolved. Remove from heat.
3. Stir in sifted flour, vanilla and beaten eggs. Don't over mix.
4. Spray 18 large cupcake cases with cooking spray.
5. Fill the cases to just over half full.
6. Bake for 15-20 minutes or until a skewer comes out clean.
7. Set aside on a cooling rack.
8. To make curd, place lime juice, passionfruit, sugar and butter in a heatproof bowl and place over pot of simmering water. Mix until combined and sugar dissolved. Remove from heat.
9. When the curd mix is warm, but not hot (you should be able to touch it), whisk in the beaten egg and place back over simmering pots. Whisk this mix until a smooth and relatively thick consistency is achieved. Set aside to cool.
10. To make Swiss meringue, place egg whites in the bowl of a mixer. Give this a quick whisk until whites are frothy. Place bowl over pot of simmering water and, using an electric whisk on mid-high, whisk mix until white and glossy and the sugar is dissolved (you can test this by rubbing a little of the mix between two fingers and checking for sugar grains). Remove from simmering pot and place in stand mixer. Continue to whisk with whisk attachment for another 5 minutes. Slowly begin adding butter cubes, one or two at a time. Wait for the butter to be completely combined before adding more - continue until all the butter is added. Add vanilla and mix to combine. Set buttercream aside.
11. To assemble, use a teaspoon to remove a 2cm diameter scoop of cupcake from the top of each cupcake, this wants to be about 2cm deep too. Once this is done, spoon curd into the hole created in the cupcake until it is even with the top of the cupcake. Use a piping bag and your choice of nozzle to pipe the buttercream on top of your cupcakes.