Embrace the plentiful bounty from flourishing vege gardens and local markets with simple, fresh and delicious recipes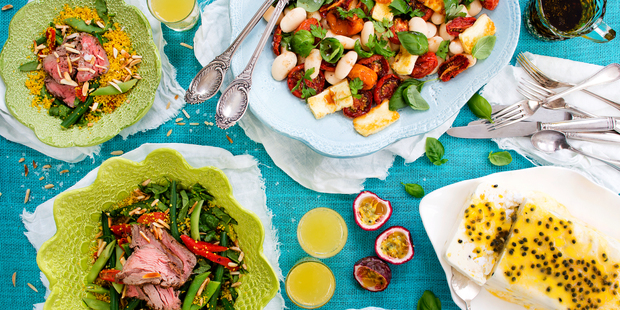 Lucky enough to be away at Mangawhai for a weekend recently, we couldn't resist a visit to the local Saturday morning market - primarily for a 15-minute shiatsu massage (behind the curtain on the small stage!) Feeling wonderfully limber and relaxed, we then turned our focus to shopping for tasty morsels to take home for lunch. Wandering among the stalls laden with tempting homemade baking, breads, tasty cheeses and more, we filled our shopping bags, making the most of the fresh produce on offer, all grown locally and picked fresh that morning. The colours and smells were vibrant and it was all selling fast. The variety of tomatoes was huge, from the large beefsteak to cherry; the beans were so tender we couldn't resist eating them raw on the walk home. All our purchases were so fresh, it was a crime to refrigerate them. With flavours so crisp, dense and juicy we were inspired to get cracking in the kitchen straight away.
The tomatoes were simply chopped up with fresh basil, salt, pepper and a splash of olive oil. If you have eaten yourself silly with fresh tomatoes, try slow-roasting them for extra sweetness.
They are great served on crostini with fresh mozzarella or tossed into a salad, like today's, with white bean and haloumi, fresh herbs and a dash of good balsamic.
"There are other vegetables, Mum," a younger family member pointed out to me recently as I served beans again. But I just can't get enough of them at the moment - tossed with a little butter, pepper and garlic or for something a bit different, this simple yet exotic Moroccan beef and green bean salad.
The passionfruit for the terrine we picked ourselves from a laden vine in the garden. The vine is years old and always looks a bit messy, but come February we are always glad we resisted chopping it back. Teaspoons are whipped out immediately to scoop out the sweet, yet slightly sour flesh. Whether homegrown or store-bought, passionfruit is delicious spooned over greek yoghurt or added to a chilled vodka cocktail with a slice of lime.
Here, I have gone for a favourite - a slightly decadent but simple terrine.
Recipes:
• Roasted tomato, haloumi and white bean salad
• Moroccan beef salad with green beans
• Passionfruit terrine

For more of Angela Casley's fabulous recipes, visit foodhub.co.nz
- VIVA