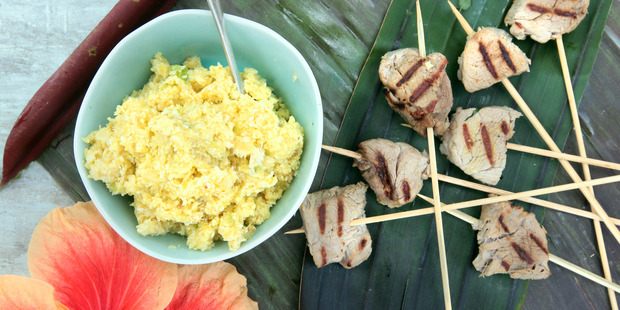 1. Soak about 100g of tamarind paste in three cups of warm water.
2. After half an hour, squeeze the pulp out and sieve the liquid. Discard the pulp.
3. Add 2 cups of coconut milk to 2 cups of the tamarind water.
4. Gently poach cubes of lean pork (I used loin) in this mix. Keep warm.

Make a fresh sambal
1. Chop 4 green chillies, crush 2 cloves of garlic and grate 1 Tbs of fresh ginger.
2. Grind these in a mortar and pestle or pulse in a food processor.
3. Add ½ teaspoon of turmeric, 1 tsp of salt and 1 cup of desiccated coconut.
4. Mix well, then thin back to a firm paste with the remaining cup of tamarind water.
5. Thread the poached pork cubes onto skewers and dab the sambal onto each one.