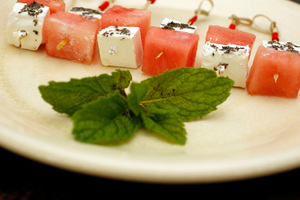 This is a cool, fresh pass-around.
1. Cut cubes of feta and cubes of melon. I used watermelon but honey dew or rock melon would also be good.
2. Very finely chop some fresh mint or use some dried mint. Mix this with a neutral oil, such as grape seed or rice bran.
3. Marinate the cubes of feta in the oil for at least half an hour.
4. Chill the melon.
To serve, thread on to skewers and garnish with fresh mint.