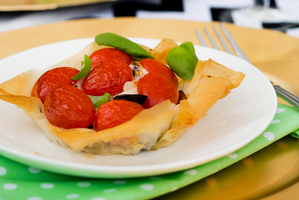 Serves 4
• 1 eggplant, diced into 2cm cubes
• 1 Tbs olive oil
• 1 garlic clove, crushed
• 1 tsp smoked paprika
• 2 tsp fresh thyme
• 6 sheets of filo pastry
• 60g butter, melted
• 150g fresh mozzarella, preferably buffalo
• 16 cherry tomatoes
• Salt and freshly ground black pepper
• Fresh basil leaves to garnish

1. Preheat the oven to 200°C. Toss eggplant with the olive oil, garlic, paprika and thyme and place in a roasting pan. Cook for 20 minutes.
2. Lightly grease the tart/large muffin tins with oil spray or softened butter. Cut filo pastry sheets into squares to fit the tins, with some overlap. Brush each layer with melted butter before fitting into the tart tins. Layer three sheets for each hole so there are three layers of filo in each, buttered in between.
3. Fill with the eggplant mixture and pile pieces of mozzarella and then the halved tomatoes, cut-side down, on top. Season with salt and pepper and bake for approximately 20 minutes or until pastry is golden.
4. Remove from the oven and top each with fresh basil leaves to garnish.
Serve hot, warm or at room temperature.