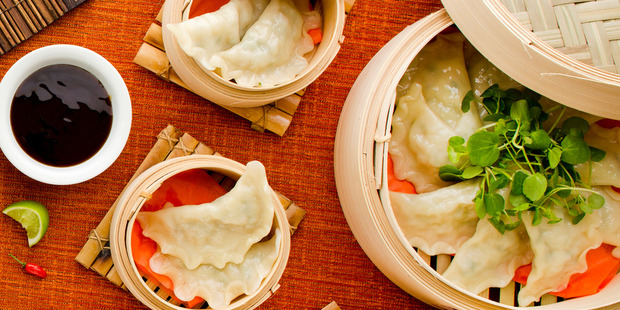 Makes 24
Dough
100g cornflour
4 Tbsp tapioca flour
150ml boiling water
2 tsp peanut oil
Filling
200g fresh crab meat
1/4 cup garlic chives, finely chopped
3 water chestnuts, finely chopped
2 tsp soy sauce, plus extra to serve
1/2 tsp sesame oil
1 tsp peanut oil
1/2 tsp white pepper
1 To make the dough; sieve the two flours together then make a well and pour in the boiling water.
2 Mix well with a wooden spoon then add the oil and turn out. Knead for about 5 minutes or until smooth.
3 Return to a bowl, cover with a damp cloth and rest for 30 minutes before using.
4 To make the filling; combine all the ingredients and leave to marinate for at least 1 hour.
5 Divide the dough and roll out on a lightly oiled bench into ovals, approximately 5 x 6cm. Fill with 1 tsp of the filling then pinch the edges together to form a pouch. (Try to pleat the dough to be authentic.)
6 Steam the dumplings for 7 minutes then serve with soy sauce.