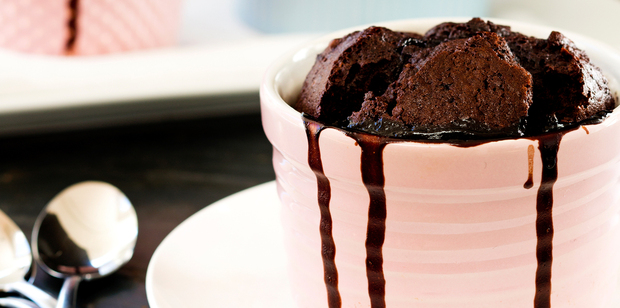 Serves 6
100g plain flour
1/4 tsp salt
1/4 cup caster sugar
2 tsp baking powder
2 Tbs cocoa powder
100g dark chocolate, chopped finely
1/2 cup milk
40g butter, melted
1 egg
1 tsp vanilla extract
Topping
100g brown sugar
2 Tbs cocoa powder
1 cup boiling water
1 Preheat oven to 180C. Butter the individual moulds.
2 Sift the flour, salt, sugar, baking powder and cocoa together.
3 Stir in the chocolate.
4 Warm the milk with the melted butter. Whisk in the egg and vanilla then gently stir into the dry ingredients. Spoon into the moulds.
5 Combine the topping ingredients. Spoon over the puddings, then bake for approximately 15-20 minutes or until puffed in the centre. Serve hot.