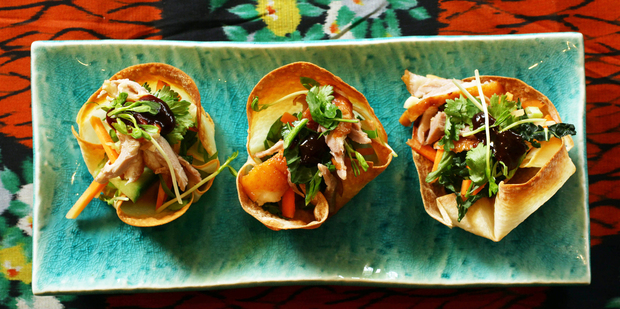 Buying a ready-cooked duck from a Chinese market can make for easy entertaining. It is also economical and you will get a product that is almost impossible to replicate in the home kitchen. These ducks are cooked hanging in the oven and basted with delicious marinades. Along with the duck, buy some duck pancakes. Again, you will never be able to make these as perfectly unless you were born to it.
1 Shred the duck.
2 Slice spring onion and cucumber into a small dice and mix this with some grated carrot and very finely sliced green cabbage.
3 Dress this with a little sesame oil and lemon juice.
4 You could add tiny bits of deseeded red chilli, chopped mint and coriander.
5 Using muffin tins, spray with cooking oil, and gently push the pancakes into the spaces. You can also use won ton wrappers. Lightly spray again. Place in a moderate oven and keep a close watch. In a few minutes these will have crisped up to give you little serving baskets.
Remove and cool.
To serve
Fill the base of the basket with the Asian inspired slaw.
Top with some shredded duck.
Dab on some hoisin.