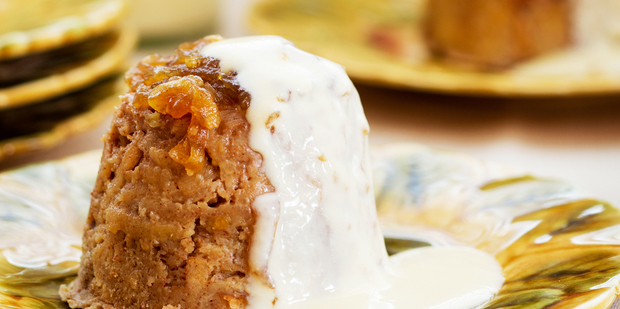 Serves 4
25g butter, melted
1/2 cup brown sugar
3 golden delicious apples, peeled and grated
200g brioche
1 lemon, zested
2 tsp cinnamon
100g brown sugar
1 tsp vanilla extract
3 eggs
1 cup cream
1/2 cup milk
Calvados anglaise
3 egg yolks
2 Tbs caster sugar
1 Tsp vanilla extract
1 1/2 cups milk
3 Tsp calvados or brandy
1 To make the anglaise - whisk the eggs, sugar and vanilla in a bowl.
2 Bring the milk to a simmering point then pour over the ingredients and stir just enough until the mixture begins to thicken. Make sure it does not boil.
3 Pour through a chinois or a strainer then stir pour into a saucepan and let gently cook until the custard begins to thicken.
When cool, stir through the calvados or brandy.
4 To make the pudding, grease 4 heatproof pudding bowls. Pour the sugar and melted butter into a bowl. Stir through the grated apple. Place 2 tablespoons of apple in the base of each bowl, add the remainder to the brioche mixture.
5 Slice the brioche and put into a second bowl. Add the lemon, cinnamon, sugar and vanilla.
6 Whisk the eggs, cream and milk together then pour over the mixture. Leave to soak for 20 minutes before covering and steaming for 30 minutes. Serve warm with the anglaise poured over