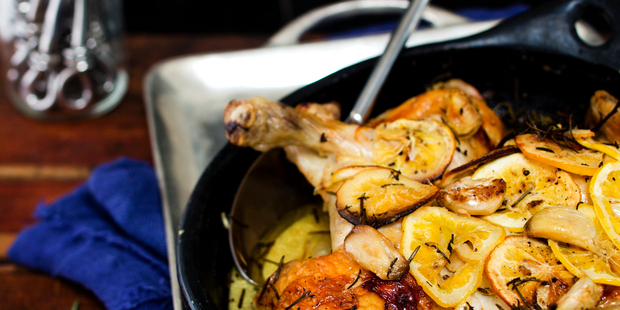 Often the whole idea of food - which ingredients to use, where to buy, how to cook, even how to serve in a stylish manner - can be caught up in what is deemed fashionable.
Looking back over a collection of 1970s cookery books discovered by a cousin a few weeks ago reaffirmed that despite the changes in photography and props, there will always be classic ingredients that when cooked well will taste delicious and invoke memories.
The first one for me is a prawn cocktail. When I was eight, my father was waiting to be transferred to Australia for work so we were lucky enough to stay in a rather flash hotel for a week. I don't really remember much more than the three of us having a separate room from our parents which was extremely exciting and going into the restaurant each evening for dinner. When not tempted by crumbed camembert with plum sauce on the odd occasion, I believe I ordered prawn cocktail every other time.
I may have thought it seemed sophisticated served in the glamorous glass but the flavours of the prawns and sauce with the cold shredded iceberg and a wedge of lemon impaled on the side made it a long-term favourite for me.
A perfectly cooked roast chicken is another classic. Choose the best quality bird you can afford and spatchcock it. This is a simple technique which ensures the meat cooks more evenly and the breasts don't dry out before the legs and thighs are cooked. Also, it is a quicker way to cook chicken, so after work it is easy to prepare and either throw in the oven or on to a barbecue and cover - 45 minutes, depending on the size of the bird and dinner will be ready. I have used wine, garlic and cream with a generous amount of which ever fresh herbs are available such as rosemary, thyme and parsley, because these are classic flavours that work perfectly with chicken.
A souffle is a timeless dish and although it takes a bit of organising, and it can be a little stressful awaiting the result - once it is hurried to the table and expectant guests, it is a sublime dessert well worth the trouble. Use rich dark chocolate to make it even more decadent, then pair with perfectly ripe berries and a spoonful of softly whipped cream.
Chef's tip
When roasting a chicken, use as many herbs in as many combinations you enjoy. I love using plenty of lemon and garlic also so I haven't specified quantities.
When preparing to serve the souffle, make sure your guests are sitting with spoons poised because as soon as the beauty leaves the oven it will start to deflate and needs to be appreciated for its gorgeous fragility.