Beautiful looking and tasting food will enhance any special occasion.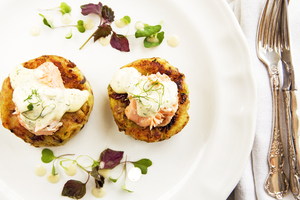 With Viva magazine's special weddings issue, I thought, why not pre-empt all things romantic with a look at ways to cater for a special family celebration - be it a wedding, christening or significant birthday.
Organisation is important regardless of how casual or formal your occasion. Without a simple plan it can all turn to custard.
Guests also need to be looked after throughout the event. A glass of bubbles on arrival, lovely finger food and good music all work to create the right atmosphere.
The key is to keep the drinks, alcoholic and non-alcoholic, flowing. Delegate this job to a family member and ask younger family members to help hand the food around.
Do as much as possible before the guests arrive. The food I have prepared for today uses accessible ingredients, therefore the dishes can work well in any situation. When it comes to serving, generous platters can be prepared for a picnic or a garden soiree while individual servings can be plated with elegant tableware to create a more formal feel.
The salmon cakes can be made up to three days in advance, the aioli a week, but find the freshest of micro greens to garnish .
Source duck breasts which you can roast while retaining a rich crispy skin. As there are no bones you don't have to worry about removing them and just allow a little time to rest before slicing for the salad.
A decent cheesecake does take time so whether you make individual ones or a couple of large ones, you can prepare it all in advance by making the crust, whipping together the filling and finding the most perfect of figs to grill and passionfruit to drizzle.
Chef's tip
Fennel bulbs need to be cored before slicing finely. Raw or cooked, the stalks and green tops can also be used. There are different varieties of figs but all are delicious, regardless of the colour. Grill for a minute or two before topping the cheesecake.