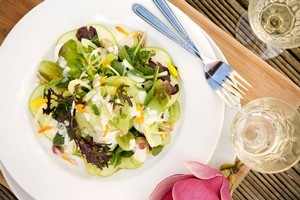 Serves 4
2 granny smith apples
3/4 cup roasted salted pistachios
1 fennel bulb
250g green seedless grapes
Dressing
1/2 cup sour cream
Zest and juice of two limes
1 tsp caster sugar
2 tsp dijon mustard
1/2 cup olive oil
Salt and freshly ground black pepper
1 Halve the apples, core and slice finely. Roughly chop the pistachios.
2 Remove the core from the fennel bulb and discard. Slice the fennel finely.
3 Halve some of the grapes and keep the rest whole. Combine all the salad ingredients in a bowl.
4 To make the dressing: Put the sour cream into a bowl. Finely zest the lime and add the juice and the remaining ingredients. Whisk together and season. Serve with the salad.