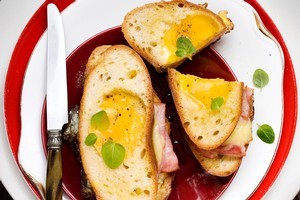 Serves 4
8 slices crusty white bread, preferably sourdough
Dijon mustard
Comte cheese or gruyere
Cream
Slices of ham off the bone
Freshly ground black pepper
Butter
4 small eggs
1. Place 4 slices of bread on a board. Spread lightly with Dijon mustard.
2. Grate the cheese and mix with just enough cream to make a paste. Spread on the bread.
3. Top with slices of ham and add pepper.
4. Heat a frypan and add 1 Tbs butter. Using a cutter, cut out rounds from each remaining slice. Sandwich together and brush with softened butter.
5. Place into the frypan and cook until golden underneath. Crack an egg into each of the cut out holes and place the sandwiches under a preheated grill, cooking until golden and the egg is set.