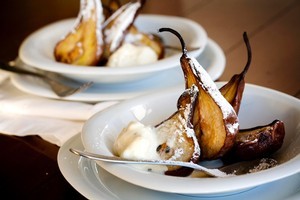 Serves 4
Honey cardamom icecream
1/2 cup manuka honey
8 egg yolks
2 cups full fat milk
1 tsp vanilla extract
1 cup cream
1 tsp ground cardamom seeds
Baked pears
4 pears
1/2 cup riesling
1/2 cup water
1 Tbs manuka honey
1 Tbs butter
1 To make the icecream; warm the honey to make it runny. Whisk the yolks, honey and cardamom together using electric beaters until very pale.
2 Pour the milk and vanilla into a saucepan and heat until boiling. Remove from the heat and whisk into the egg mixture, then fold in the cream.
3 Pour into a saucepan and stir with a wooden spoon over a gentle heat, making sure it doesn't boil, until the mixture leaves a coating on the back of the spoon.
4 Strain through a sieve and leave to cool before pouring into an icecream machine and churning.
5 Meanwhile, preheat oven to 170C. Halve the pears and arrange in a lightly buttered baking dish. Pour over the wine and water, dot with the honey and butter then cover with baking paper and foil and bake for one hour. Serve hot with the cooking juices spooned over and icecream.
Chef's tip
When baking pears, the skin adds more flavour and texture. If preferred, the pears can always be peeled before cooking or you can brush a few drops of lemon juice over the skin to prevent discolouration.