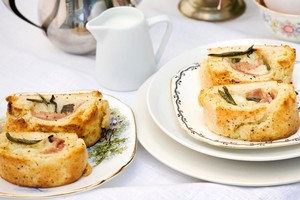 Makes 12
3 cups self-raising flour
1 tsp salt
2 tsp freshly ground black pepper
80g butter, cubed
1 egg
Approximately 3/4 cup whole milk
Champagne ham
Fresh sage
Slices of gouda cheese
1 egg whisked with 1 Tbs of milk to make an eggwash
1 Preheat oven to 220C. Grease an oven tray.
2 Put the flour, salt and pepper into a large mixing bowl. Using your fingertips, rub in the butter until it resembles breadcrumbs.
3 Whisk the egg and milk together. Add enough to the dry mix until it holds together. Turn out on to a lightly floured surface. Gently knead.
4 Roll out, using a little flour to prevent the rolling pin sticking. Place the ham, sage and gouda on one edge then roll over. Brush with the eggwash and bake for 10 minutes.
5 Slice into rounds then brush with the eggwash again and bake for a further 10 minutes or until golden.