Feijoas are in abundance right now and thankfully there are many ways to use them.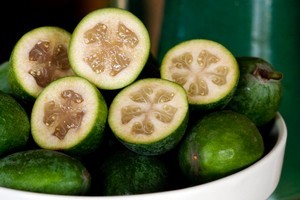 I adore the scent and the flavour of feijoas. A bowl of these green beauties on the kitchen bench will perfume the whole room.
Even though I think of them as being quintessentially Kiwi, I now know they originated in South America.
In New Zealand, however, we have taken this distinctive and aromatic fruit on as one of our own because we are lucky enough to have been blessed with the ideal growing conditions for this unique crop.
Cool winters and moderate summers produce this sweet but tart fruit with a lemony flavour and a jelly like texture overflowing with vitamin C.
Feijoas are one of the truly seasonal fruits in New Zealand and though it is exciting to see the first of the harvest, often people wonder how to use them after the thrill of the first few weeks has passed - especially if you are surrounded by generous people who drop off bags on the doorstep.
So apart from scooping out the flesh and eating as if, feijoas can be baked, grilled, made into salsa, jelly and chutney.
They are also good served with pork and venison, but today the recipes all focus on the sweeter side of life.
A buttery crumble is a favourite dessert and is delicious made with feijoas, ground almonds and ginger.
Serve nice and hot with a dollop of cream.
Cook feijoas with vanilla, a little cinnamon, brown sugar, lemon and a splash of sherry then wrap them in puff pastry and bake to make a scrumptious strudel which is good with either yoghurt or custard.
The last recipe is for feijoa and coconut gems, cooked in irons that are heated in the oven. They make a lovely petite treat, well-suited to sharing with a pot of tea.
Chef's tip
Feijoas freeze well. If you have plenty of freezer space, you can freeze them whole. Otherwise, cut off the skin and freeze the fruit to use for puréeing, baking or throwing into your morning smoothie, long after the season has ended.