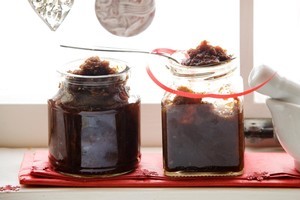 Makes 2 cups
2 Tbs dried tamarind pulp
1 1/2 cups hot water
3 Tbs desiccated coconut
1/2 Tbs finely chopped lemongrass
2 cloves garlic
2 tsp finely chopped fresh ginger
2 tsp fresh lime juice
2 tsp ground cumin
2 Tbs palm sugar, grated
1 tsp salt
1 red birds eye chilli
1 Put the tamarind into a bowl. Cover with the hot water and leave until it is soft. When cool enough to touch, rub it with your fingers to dissolve into the water then strain through a fine sieve.
2 Add the coconut, lemongrass, garlic, ginger, lime juice, cumin, palm sugar and salt.
3 Remove the seeds from the chilli if you prefer less heat. Finely chop and add. Pour all the ingredients into a saucepan and stir over a heat until the sugar has dissolved and the ingredients are well combined. Let cool before putting into sterilised jars.