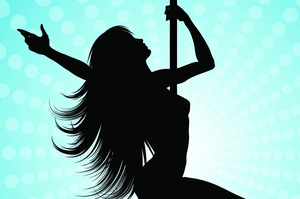 Do you know what's even higher up the moronic scale than babykinis? Pole dancing for children.
Canadian dance studio Twisted Grip has announced it's going to offer a regular Saturday class called "Little Spinners pole-dancing lessons", and its owner Kristy Craig wonders: Why the disapproving looks, everybody?
"There is nothing provocative. There is nothing sexual about it... It's pure fitness and strength and fun. I mean, kids love climbing trees. They will climb anything," she said.
"Do you see anything provocative going on here? Because there isn't. This is strictly about fitness."
She's right, of course. There is nothing sexual about stripper poles at all. Especially not according to her website, which promises, "Your muscles and libido will be on fire the next day, guaranteed."
To be clear: I have no strong feelings about adult women spinning around poles in the name of fitness and faux liberation, if that's their bag. They're old enough to know what it represents and to ignore that accordingly. (Even if, as social commentator Ryan Gosling said in Crazy Stupid Love, "We won [the battle of the sexes] when women started pole dancing for fitness.")
But little girls - that's different. If little girls were all suspended in a bubble high above the earth where no cultural connotations or expectations could touch their malleable brains - and a long metal pole was therefore just a long metal pole - I might relax a bit. I might also wish I were tiny again, just for a minute, because OMG floating in the clouds like Carebears.
But I'm pretty sure that's not the case. That is, I'm pretty sure little girls are walking around with the rest of us and know full well what's expected of them. What they should do and how they should look and act to be a woman.
Alas, Kristy Craigs are popping up all over the show:
Last year, London studio Make Me Fabulous offered pole dancing classes to children as young as three. "The girls love it. But it's not a wise idea to announce at school that you let your children pole dance," said one mother, whose daughters aged three and five both joined.
In Scotland, the Up Yer Pole studio accepts girls of six.
And in 2010, another Canadian pole dance instructor - Tammy Morris - offered classes to girls of five. Also president of the Canadian Pole Fitness Association, she said: "The kids just love it. They have no association with it or think there is anything wrong or bad about it. That's an adult putting that on them." Her classes were called Bellylicious, Sexy Flexy, Pussycat Dawls and Promiscuous Girls.
Sorry, I have to go now. My brain just exploded.