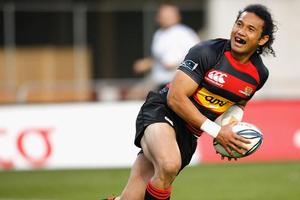 The year 1957 is not among history's most memorable. Walter James Bolton became the last person executed in New Zealand, and John Lennon and Paul McCartney first met as teenagers three years before forming the Beatles.
But for Otago rugby fans, 1957 holds huge significance - it was the last time they held the Ranfurly Shield.
Fifty-two painful years on, with plenty of heartbreaking challenges along the way, their drought for the oldest trophy in New Zealand rugby continues.
By now the Blue and Golds must have a love-hate relationship with the famous Log o' Wood. They would love dearly to hold it aloft and lay all the demons of the past half century to rest but with every challenge comes more heartache.
Seven times in the past 21 challenges, Otago have lost by five points or less. This was another case of competing without making it count, as Otago dominated the match for long spells.
Their new faces waking up sore this morning with nothing to show for their endeavour but bruises are in good company. It will be of little consolation, but even All Blacks such as Anton Oliver, Jeff Wilson, Josh Kronfeld and Jamie Joseph, regarded as true legends of the province, never experienced holding the shield aloft.
Still smarting from their second-half collapse against Wellington in round one, where they led by 14-6 with 20 minutes remaining, Otago were fired up to make amends against their arch rivals.
The loss off All Blacks for both sides was even, with Canterbury losing Colin Slade and Wyatt Crockett while Otago were without Adam Thomson and Tom Donnelly.
Canterbury coach Rob Penney honoured his promise of selecting the team who won the shield from Wellington to defend it and that loyalty paid off. Stephen Brett was a standout performer for the red and blacks, delivering his most polished performance of the season.
"Stevie Brett was the key driver for us," said assistant coach Tabai Matson. "He made breaks, he made tackles and his kicking for territory put us in the box seat."
But for the most part, the shield was there for the taking and the final score flattered the holders. Otago enjoyed long passages of territory and controlled the set-piece. The visitors should have taken the lead when Karne Hesketh went on a 50m scything run only to be brought down a metre short. Hayden Triggs was then repelled.
A minute later, Canterbury broke out with a chip-and-chase from Tu Umaga-Marshall that sent Brett over between the posts. It was 60 seconds that summed up the clinical side of Canterbury rugby.
It sparked Otago into action and they continued to exert dominance at the breakdown. Glenn Dickson slotted two penalties to keep Otago within reach before the rookie first five provided a turning point for the hosts. His clearance kick was charged down by Michael Paterson and the blindside flanker regathered well to score.
After the break, Canterbury enjoyed some fortune when a blatant forward pass from Tim Bateman set up the third try of the afternoon. In a twist of the knife, it was Bateman who crossed to extend the lead to 15 points.
For the next 15 minutes, Canterbury seemed in cruise control but Otago reserve Keith Cameron changed the mood at AMI Stadium by scoring from a rolling maul.
All of a sudden, the weight of expectation on the Otago shoulders of all those years of near misses seemed to be gone as the dream was close to becoming a reality.
The nervous energy was palpable but short-lived, as another reserve, Casey Laulala, eased the worries. He shrugged off league convert Michael Witt to score a crucial solo try with 15 minutes remaining.
Resolute Canterbury defending held out any further Otago efforts as the visitors tried to bash their way over.
Like their long and painful history with the shield, they were going nowhere. Ash Parker added the fifth try for Canterbury in the final minute to seal the result.
The holders now have a six-day turnaround before they face Taranaki.
"They're going to be massive," said coach Rob Penney. "There's no doubt about that."
For the visitors, there's nothing so appetising to look forward to. While 1957 will be remembered for so many generations of Otagoites as the last time the Log o' Wood was in Dunedin, 2009 should be known as this season where Otago had two grand chances to rewrite history.
Canterbury 36 (S Brett, M Paterson, T Bateman, C Laulala, A Parker tries; Brett 4 cons, pen), Otago 16 (K Cameron try; G Dickson 3 pens, M Witt con). Halftime: 15-9.