Superstar sprinter and fans will be hoping lightning strikes thrice in Flemington return.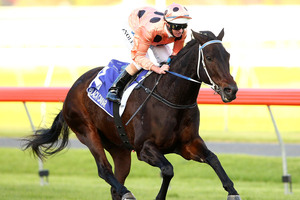 A year since she last ran in Melbourne, it's a case of more of the same for Black Caviar's long-awaited Flemington comeback on Saturday.
Rivals are still running scared. The legendary mare is poised for a no- sweat comeback, and her 23rd straight win, in the Black Caviar Lightning, the race she has won for the past two years.
Classy rivals Samaready and Ortensia will now dodge the legendary mare, who is poised to start a near money-back favourite.
Adamantium, who scorched up the Flemington straight on New Year's Day to win the Standish, has also been sidelined with a bruised heel.
Hay List, the only Australian horse to ever push Black Caviar, galloped between races on Sunday and is weeks away from a possible clash.
Trainer Mick Price met with the owners of 2012 Blue Diamond Stakes winner Samaready on Saturday night, where it was decided to bypass a gut-buster against Black Caviar and instead target the far easier Typhoon Tracy Stakes at Moonee Valley on February 22.
Samaready was regarded as second only to Pierro among last season's juveniles.
Ortensia, Australia's globetrotting sprint champion, was to have taken on Black Caviar but will now be saved for an easier option a week or two down the track. It might be up to Black Caviar's trainer Peter Moody to boost the Lightning numbers beyond just a handful of desperately ill-equipped rivals.
Moody said yesterday that Golden Archer and maybe one other stablemate would take on Black Caviar, while other likely runners include speedy Sydney filly Satin Shoes and the handy Shamexpress.
Moody told the Herald Sun he was neither bothered nor buoyed that rivals were dodging his great mare.
"It's an open invitation to run, it doesn't bother me," Moody said.
Moody said Black Caviar was in "pretty good" shape for what could be her swansong campaign, that she had shed some weight since her impressive gallop between races at Caulfield a fortnight ago.
It's a dramatic turn for the better since Royal Ascot last June, when Moody thought she was "stuffed".
"I told the owners it might have come to an end," he said. Black Caviar had her final serious Lightning hitout at Caulfield on Saturday morning.
"All systems go," Moody said, adding Black Caviar will be behind lock and key in the lead-up to the Lightning.
"Any inquiries will be met with a firm no," he said. "There will be a media briefing on Thursday but other than that we want to be left alone."
The Victoria Racing Club is expecting a spring carnival-like turnout of up to 40,000. Restaurants are already booked out.