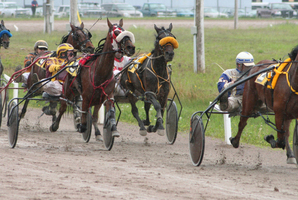 The handicappers at Harness Racing New Zealand are not always a trainer's friend, but Margo Nyhan was happy to praise them yesterday.
Nyhan's 7-year-old Julius Caesar pacer Sonnetsson was given a 10m lift in the handicaps for yesterday's $12,000 Oamaru Cup and she was grateful the horse had the chance to regain some form.
"It made a big difference because he's such a good beginner," she said.
Driver Peter Davis got Sonnetsson to the lead, before handing up to Falcon Crown shortly after the start. Falcon Crown then handed up to Democracy, giving Sonnetsson plenty of time to have a breather before he shot up the passing lane to win by 1 lengths in 3:58.5.
Sonnetsson has tested Nyhan at home, with a ligament injury behind a knee requiring her specialist skills.
"I actually do acupuncture therapy and if it wasn't for the therapy I do, he wouldn't even race," she said.
"He's a six-win horse, so we'll have to pick and choose his races, but we'll just see what's coming up."