John Wheeler becomes a Member of the New Zealand Order of Merit in New Year list.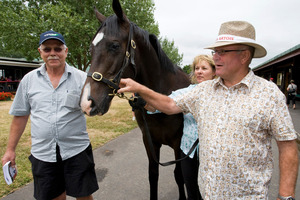 At the age of 10 John Wheeler managed to get his head jammed between two iron bars of the birdcage fence at Stratford races.
The now 62-year-old John Raymond Wheeler has been stuck on racing ever since.
Which is why his contribution to the industry he has devoted his life to earned him the award of Member of the New Zealand Order of Merit in the Queen's New Year Honours.
The image of himself John Wheeler prefers to portray is that of a larrikin.
It very cleverly masks perhaps racing's greatest brain ever.
New Zealand trainers had won a dozen or so Melbourne Cups in the century before John Wheeler was given his licence to train thoroughbreds in 1981, so travelling horses internationally was nothing new.
But Wheeler changed forever the thinking on how it should be done in the modern era.
Only seven years after he strapped on the trainers' badge, Wheeler won one of the world's great weight-for-age races, Melbourne's W.S. Cox Plate, with Poetic Prince.
He went on to prepare Rough Habit for 11 group one races, Veandercross for another 11 at the same level, but it will be for his jumpers and for Rough Habit in particular that he will be remembered.
At the same time Rough Habit was wooing Queenslanders, Wheeler, despite a seemingly larrikin personality, was grabbing the attention of the Banana Benders.
To the extent that when Rough Habit won his third Doomben Cup and they named several racecourse bars after the gusty, ugly, little galloper, Wheeler was wending his way into Australian hearts.
Perhaps the greatest credit to Wheeler is that he is remembered in Australia even more than Rough Habit.
He won an astonishing nine Great Eastern Steeplechases at Oakbank, in South Australia, and is now known as the King Of Oakbank. It's a title well earned.
Wheeler's talent for learning how to travel horses internationally helped him win the world's richest jumping race, Japan's Nakayama Grand Jump, with St Steven.
He has won 27 major jumping races in Australia, New Zealand and Japan.
Perhaps there is no mystery that John Wheeler's greatest success - but by no means exclusively - has been with stayers. He spent his learning years with Bart Cummings.